One Fine Stay: The Rich Man's Airbnb
by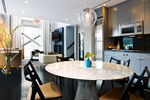 It's like living in a catalog. Or maybe a movie, one in which you've been cast as a suave, jet-setting millionaire who's swapped houses with another millionaire who happens to be your soul mate (played by Jude Law). Or maybe a wealthy aunt has died and left you her gorgeous townhouse. Or Anna Wintour has asked you to house-sit. Or—I'm sorry, what was I talking about? I've been fantasizing about all the homes I could stay in through the luxury vacation rental website One Fine Stay.
For $200 a night and up, One Fine Stay will arrange for you to rent someone's personal home for a short period of time while they're out of town. We're not talking just any old home, though; these professionally decorated apartments and townhouses (even one 6,000-square-foot London houseboat!) are likely some of the coolest digs you'll ever visit, and they offer a unique travel experience that most hotels can't replicate. "Folks in the nicest homes and in the nicest cities tend also to be the people who travel most often," says Greg Marsh, who founded One Fine Stay in 2009. "They have these beautiful properties with amazing views, and many of them are open-minded about earning some extra income when they're away. But they have very little time or inclination to act as a hotelier and rent out their homes themselves."
One Fine Stay works with the homeowner to make the apartment presentable while retaining a sense of privacy. Both owner and renter remain anonymous, which makes the site especially attractive to celebrities and other public figures, who don't always want to broadcast where they're staying. "They went through our place with us, drawer by drawer, closet by closet," says Alexandra, who rents out her primary home, a Manhattan apartment, for $950 per night through the website. "We could even tell them which rooms we wanted sealed off."
The company cleans the apartment and provides linens, towels, and Kiehl's brand toiletries for the guests. Daily maid service and concierge help are available to travelers as well; One Fine Stay even provides an iPhone loaded with maps, tips, and the homeowner's favorite neighborhood restaurant recommendations. But even with these amenities, the place you're visiting is still unmistakably someone else's home. "Walking around, you get this sense of, 'What kind of person would live like this? Whose shoes am I walking in for a few days?'" says Marsh. And you do find yourself doing typical houseguest-type things: searching for glasses and silverware in the kitchen, fumbling with unfamiliar appliances. Marsh says that Americans staying in London homes have had a particularly difficult time learning to use an electric kettle to make tea. "We had a couple instances where they'd put the electric kettle on the gas stove to heat it up," he says. "That's had some exciting consequences."
So far, One Fine Stay only features homes in New York City and London, although Marsh has plans to expand elsewhere in Europe as well as "big coastal cities in the U.S." Some of the finest homes available are a former violin factory in London that was reportedly featured on Dr. Who ($1,030 per night); a three-story apartment in a former rectory in New York's Murray Hill neighborhood ($565 per night); and a two-bedroom apartment in London's St Pancras railway station's clock tower ($450 per night). Sadly, inheritances from wealthy aunts and romantic encounters with Jude Law are not included.
Before it's here, it's on the Bloomberg Terminal.
LEARN MORE