Can Entrepreneurship Training Shrink Unemployment?
by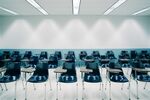 After Kim Osterhoudt lost her human resources job at a financial services firm in a 2009 downsizing, she tried to eke out a living selling homemade jam near her home in Belle Mead, N.J. To improve her odds of success, she enrolled last year in Entrepreneur University, a free, 60-hour, local entrepreneurship training program. Launched by the New Jersey Department of Labor in partnership with the nonprofit Intersect Fund, the program supports small business development in poor and distressed areas of the state.
Today Osterhoudt's 18 varieties of jam are popular at farmer's markets and distributed at a handful of specialty markets. Osterhoudt says her business is on track to hit $60,000 in revenue this year—double that of 2011—but she has yet to turn a profit and has been living off the proceeds of a home she sold shortly after she lost her job. Her goal this year is to pay back the $15,000 she withdrew from her retirement account in order to start the company.
Osterhoudt is one of hundreds of Americans taking advantage of at least a dozen free training programs newly designed to catapult struggling communities by encouraging business creation. Unlike business courses offered by colleges, universities, or the Small Business Adminstration's Small Business Development Centers, these programs are generally aimed at the unemployed and are sponsored by city or regional economic development agencies, often in partnership with foundations and private donations. Their goal is to combat high unemployment and declining business formation—which fell below 8 percent in 2010, compared to 13 percent in 1980, according to U.S. Census data.
Because these programs are new, their long-term economic impact remains unproven. That doesn't bother Brian McGowan, former chief operating officer of the U.S. Economic Development Administration, who applauds the uptick he has encountered this year in local programs to encourage entrepreneurship. Now president and chief executive officer of Invest Atlanta, the city's 25-year-old economic development agency, he says: "If you're not growing through entrepreneurship, you're not building a sustainable economy."
Roberto Barragan, president and CEO of the Valley Economic Development Center in Los Angeles, which lends up to $750,000 to entrepreneurs, recognizes that few individuals are willing or able to sacrifice as Osterhoudt has done. That's why he automatically rejects loan applications whose business plan includes a figure for a CEO's salary. Since starting its small business lending program three years ago, VEDC has issued over 100 loans statewide, totaling more than $17 million. He says the program has a 90 percent on-time payback rate, with about 9 percent delinquent at any given time—and 4 percent eventually defaulting.
Anyone who gets a loan through Barragan's nonprofit must go through a one-day training session that includes marketing, accounting, sales, and planning sessions. The budding entrepreneurs can also take a free, eight-week class and get 10 hours of one-on-one consulting; about 10 percent do the full eight weeks and 25 percent come back for the consulting sessions, Barragan says. "We're making a loan to an individual. In the application process, if it becomes apparent to us that they're not an entrepreneur, the last thing we want them to do is lose their car or their house" in a default, he explains.
Rohan Mathew, executive director of the Intersect Fund, which ran the program in which Osterhoudt participated, says that 70 percent of its graduates start businesses and that 96 percent are either running companies or employed within 12 months. The program is now raising money to do longer-term follow up.  His organization has been running similar training since 2008 on its own and has a 90 percent graduation rate, despite some students needing to travel three or four hours by public transit to attend classes four days a week. The program, which costs about $1,500 per participant to provide, targets individuals whose unemployment benefits are exhausted or are close to running out. It has graduated 40 to date.
Stephen A. Laser, a veteran business psychologist in Chicago who sometimes helps clients make the transition from professional jobs to self-employment, worries that training programs may induce people who aren't cut out for entrepreneurship to take on financial risks without understanding the rigors of surviving without salaries and employer-sponsored benefits. "I've heard many stories of people who took lucrative pensions and buy-outs and cashed them in [to start their own businesses]—and then gone bankrupt," he says.
Mathew emphasizes that entrepreneurship isn't for everyone. "Some of our students realize it is not feasible for them, or they cannot access the capital they need, but at least they figure it out in class and they aren't wasting their time or money," he says. "We think they gain marketable skills in the program—whether it's selling, marketing, accounting, or bookkeeping—that can transfer into wage employment as well."
Before it's here, it's on the Bloomberg Terminal.
LEARN MORE