Wen Jiabao's Southern Tour for Growth
By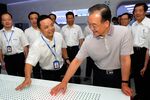 With echoes of former paramount leader Deng Xiaoping's Nanxun, or southern tour of 1992, Wen Jiabao has just completed a sweep through the Guangdong cities of Guangzhou, Dongguan, and Foshan. But while Deng's historic trip was all about jump-starting reform that had stalled, Wen's excursion appears more about rallying local officials and companies to step up efforts to boost China's now flagging growth.
There are many "negative factors that will affect stable economic operations in the second half," and challenges to stabilizing growth are "relatively large," said the soon-to-retire 69-year-old premier, now finishing up a decade at the helm of China's economy. "There will still be a lot of problems and uncertainties in exports going forward," said Wen on the Aug. 24-25 visit to China's biggest trading province.
China has been hurt by troubles in the euro zone, its biggest export market. Wen is set to depart the government early next year at the National People's Congress in March.
Measures including faster payment of export rebates, expanded use of export credit insurance, and reduced inspections and fees will reduce pressure on companies and help support overseas shipments, Wen said. "Facing the current difficulties we have to improve the operating environment for companies and enhance corporate confidence," he said.
China grew at 7.6 percent in the second quarter, its slowest rate in three years. Two recent interest rate cuts and three reductions in bank reserve requirements since last November have had limited impact on boosting growth.
Reaching China's target of 10 percent growth in trade for the year looks increasingly challenging following a disappointing 1 percent growth in exports, recorded in July. Imports last month were up 4.7 percent, below expectations. In the first seven months of this year, exports were up 7.8 percent, with imports growing 6.4 percent. And a survey released on Aug. 23 showed China's manufacturing is likely to contract at its fastest rate in nine months in August, with new export orders at their lowest level in three years.
Also disappointing was China's 5.4 percent drop in industrial profits in July from a year earlier, to 366.8 billion yuan ($57.7 billion), the fourth straight month of decline, and the worst showing so far this year, reported the statistics bureau on Aug. 27.
Particularly hard hit have been industries now facing overcapacity such as steel—ferrous metal smelting, for example, saw the worst fall in profits, down 60.8 percent, with chemicals down 21.3 percent.
State-owned enterprises and foreign-invested companies led the declines in the first seven months, with profits falling 12.2 percent and 12.6 percent, respectively. Private companies, by contrast, were up 15.5 percent over the same period. Overall, industrial profits fell 2.7 percent, worse than the 2.2 percent drop in the first half. In the first half of 2011, industrial profits grew by 28.3 percent, in contrast.
"Authorities are trumpeting 'supply-side' reforms like cutting taxes and red tape, but the impact of the changes is still difficult to discern," wrote research house GK Dragonomics in an Aug. 27 note.
"The most important thing right now, and the purpose of Wen's trips, is to reboot the confidence of businesses and focus more on employment," said Helen Qiao, chief China economist with Morgan Stanley in Hong Kong, in an interview with Bloomberg News. "We've seen a significant deterioration in exports and the government really has very few tools to stimulate external demand, but it's an important gesture that the government shows it's trying to help."