Struggling AOL Defies Gravity Again
By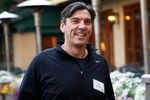 AOL gets a third of its revenue from a category—paying subscribers—that will eventually reach zero.
AOL's new ventures—such as its Patch local news network and Devil ad format—haven't delivered revenue at scale.
AOL's stock has more than doubled since the start of the year.
What's going on?
Shares of AOL hit a high of $34.10 today—returning a blistering 136 percent during the past year—after the company announced plans to pass along to shareholders more than $1 billion, via a $600 million stock buyback and a one-time dividend. The money comes from the April sale of a bunch of old patents to Microsoft, and it's the latest example of Chief Executive Officer Tim Armstrong's ability to keep Wall Street interested in his company even as critics pound away at its weaknesses.
Analysts still have faith in AOL's ability to wring revenue out of its traffic—which is high but flat, like the haircut on NFL analyst Howie Long. In the second quarter of 2012, AOL sites drew 112 million unique visitors, down from 113 million during the same period in 2011.
"Despite everything we hear about AOL," says Ron Josey, an analyst with ThinkEquity, "they are still one of the most trafficked properties on the Web." He adds: "They still generate a lot of users, they still generate a lot of content for these users to consume, and they're still generating buzz around newer properties."

This month, AOL debuted HuffPost Live, an ambitious effort to produce 60 hours of video news programming per week. Previous big launches have failed to catch fire. Patch, a network of hundreds of "hyperlocal" news sites that Armstrong once pitched as the future of journalism, is on track to bring in $40 million to $50 million in revenue this year, despite AOL pouring several multiples of that amount into its development. Earlier this year, Armstrong had to focus on fending off an insurgent group of investors, who turned their 5.3 percent stake into a platform for savaging Patch and other "poorly conceived acquisitions and investments into money-losing initiatives."
The $1 billion patent sale to Microsoft helped defeat those investors' bid for three seats on AOL's board.
"While we continue to be optimistic about the model and believe that the company is rich in asset value," Topeka Capital analyst Victor Anthony writes in an e-mail, "we would like to see double-digit growth in the core display advertising business as evidence that AOL can fully compete with Google and Facebook for the display ad dollar. From where we are today, we are not yet convinced that to be the case."
Overall, a third of analysts recommend AOL's stock as a "buy," while two-thirds say "hold," according to data compiled by Bloomberg.
The dividend of $5.15 per share is payable on Dec. 14, a possible buoy on the stock. When they're announced in late October, third-quarter results could change that.
Before it's here, it's on the Bloomberg Terminal.
LEARN MORE