Paul Ryan's Other Legislative Interest: Iran
By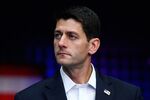 Since Mitt Romney chose Paul Ryan to be his running mate, most of the campaign's talk to date has been about domestic issues. When foreign policy has entered the rhetoric, Romney has chastised Obama for cutting defense spending (cuts Republicans, including Ryan, supported) and has tried to fashion himself as a closer friend to Israel than Obama.
Neither Romney nor Ryan has strong foreign-policy credentials, though there is one subject that has animated Ryan during his 13 years in Congress: sanctions against Iran. Ryan has signed on to at least eight Iran-related bills over the course of his tenure, according to GovTrack.us, which tracks Congressional voting records.
In 2001, two years into his term, Ryan was an early co-sponsor of a bill that extended sanctions against Iran and Libya. The bill directed the president to report to Congress on the effectiveness of sanctions aimed at pushing Iran to allow inspectors for the International Atomic Energy Agency to examine nuclear facilities. In 2007 and 2009, Ryan signed onto bills that, had they passed, would have strengthened sanctions by banning all foreigners whose companies violated sanctions from getting visas to enter the U.S. and would have allowed the U.S. to sanction executive officers of those companies by seizing their property.
The most recent Iran-related bill Ryan co-sponsored was signed into law this month by President Barack Obama. The bill extended sanctions on insurers that provide coverage to the National Iranian Tanker Co. and made companies disclose more information about their dealings with Iran in their S.E.C. filings.
In 2010, Ryan traveled with other members of Congress to the United Arab Emirates and to Oman to discuss Iran. Writing about the trip in a Wisconsin newspaper, Ryan says he tried to persuade leaders to more rigorously enforce sanctions that prevent missile and dual-use technology from entering and leaving Iran through Omani and Emirati ports.
Ryan was pleasantly surprised by his conversations with officials in the region: "Having studied the nature and extent of the Saudi contribution to combating the global terror network, my expectations were quite low. … As was made clear during many of my meetings, Iran's history of belligerence in the region, its inflammatory Islamist rhetoric, and its support for terrorist and insurgent groups throughout the region are just as alarming for many governments in the Middle East."
As his profile has risen, Ryan has branched out from supporting widely popular sanctions efforts to a bigger theme: How America's fiscal problems affect national security. "If there's one thing I could say with complete confidence about American foreign policy," he said in a speech last summer, "it is this: Our fiscal policy and our foreign policy are on a collision course; and if we fail to put our budget on a sustainable path, then we are choosing decline as a world power."
He went on to attack Obama for defense cuts—which Ryan eventually supported as part of the vote on the budget sequester bill.
The message of budget profligacy is now being resurrected on the campaign trail. A recent Fox News column hailing Ryan as Romney's "brilliant foreign policy choice" picked up the fiscal theme, arguing that the greatest security threat the U.S. faces is not "Al Qaeda—it's our dwindling economic power."
This big idea—and it is hardly new—is an intriguing one: Has the post-9/11 rush to expand the Pentagon's budget dramatically made America weaker? In a new book, The Party Is Over, Mike Lofgren, who worked as a budget expert for Republicans in Congress for 28 years, argues that defense interests have become a permanent fixture in U.S. spending, with neither party willing to confront the consequences of such hefty budgets. "Vaunting rhetoric to the contrary, our military policies of the last decade have left us less prosperous, less secure, and less free," Lofgren writes.
Ryan's zeal for cutting federal spending doesn't match his desire to increase the Pentagon's budget, which he advocates in his budget and on the campaign stump. Regardless of what happens with Iran, Ryan's message is contradictory when it comes to spending vs. fixing America's finances.
Before it's here, it's on the Bloomberg Terminal.
LEARN MORE