Female B-School Deans Bring Ethics to Campus
Alison Damast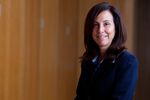 If an undergraduate business school requires students to take a stand-alone course in business ethics these days, chances are a female dean is at the helm.
That's the finding of a recent study published in the latest issue of the Academy of Management Learning and Education, which looked at 382 undergraduate business schools accredited by the Association to Advance Collegiate Schools of Business (AACSB) in the 2009-10 academic year. The study examined the factors that led to the school's decision to make business ethics a required course.
Matthew Rutherford, lead author of the study, hypothesized that women deans may be more likely than men to place an emphasis on ethics in the curriculum. His reasoning: Several studies that looked at gender differences indicated that female executives and students are more concerned about ethical issues and respond more ethically to moral or ethical business dilemmas than their male counterparts do.
Turns out his hunches were right: 35 percent of female deans in the study headed up a school requiring ethics, while only 24 percent of male deans did so.
The AACSB, one of the leading accreditation agencies for business schools, gives schools flexibility on how they incorporate ethics into the core curriculum. Programs can choose to offer a stand-alone business ethics course, or can integrate it into other classes in the core curriculum, such as marketing and finance. "They both are acceptable, but a required class in ethics might send a stronger message that it is really important," Rutherford says.
The report's findings on a dean's gender are encouraging for those who believe ethics needs to be given more weight in the business curriculum, given that a growing number of schools are hiring women deans, says Rutherford, associate professor of strategic management at James Madison University's College of Business. In the past year, a number of women have been appointed as deans of prominent business schools, including Sarah Gardial at the University of Iowa's Tippie College of Business and Sri Zaheer at the University of Minnesota's Carlson School of Management. In the 2011-12 academic year, women made up about 18 percent of U.S. business school deans, up from 12 percent in 2002, according to the AACSB.
"Hopefully there will be a lot more female deans in the future," Rutherford says. "It could say good things about the future role of ethics in the business curriculum if we see a lot more women being named deans at business school."
In the study, there were 20 female deans at schools that required a business ethics course, but it's unclear from the results whether the school already required this class before hiring the dean, or if the new dean made the change after she arrived, Rutherford says.
Anna Rominger, dean of Indiana University Northwest's School of Business and Economics, a public university in Gary, Ind., was the trailblazer for ethics at her school. She first started teaching ethics in a class called Legal Environment of Business. After ascending to dean, Rominger gave the school's curriculum committee a charge to consider adding an ethics class to the core curriculum. The request was ultimately approved, Rominger said in an e-mail. Today, ethics is also incorporated in courses in other subject areas at the school. "Ethics is crucial," she said.
In other instances, private or religiously affiliated schools, which the study found were more likely than public universities to require a class on business ethics, may also be more inclined to hire female deans. Fordham University's Gabelli School of Business, a private Jesuit school in New York City, first made undergraduate business students take a course in business ethics in the 1990s, when the school's first female dean, Sharon Smith, was at the helm. After Smith left, the school hired Donna Rapaccioli, who has continued Fordham's emphasis on ethics. In addition to specific courses, corporate whistle-blowers and convicted white-collar felons are frequently invited to speak on campus. "It helps raise our students' awareness around ethics," Rapaccioli said in an e-mail.
Loyola University Maryland, a Jesuit institution in Baltimore, brought on Karyl Leggio in 2008 to lead the Sellinger School of Business and Management. The B-school required students to take ethics courses before Leggio became dean, but she says the school has placed an increased emphasis on its ethics mission since she arrived.
"Economies around the world are still rebuilding, and in some cases desperately trying to hang on, after one of the most prolific collapses in generations," Leggio said in an e-mail. "It's not enough to educate students about how to prevent a similar catastrophe in the future. Students must also understand the far-reaching implications of disastrous business practices that feed systemic risk, and how people's lives—not just profits—can be swallowed when business leaders lack discernment in decision-making."
Before it's here, it's on the Bloomberg Terminal.
LEARN MORE