Favorite Professors: Virginia Tech's Donna Wertalik
Kate Abbott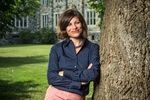 Donna Wertalik
Pamplin College of Business, Virginia Tech University
Undergraduate Courses Taught: Real World Advertising, Marketing, & Communications
After graduating from college, Donna Wertalik launched a career in marketing, starting in the sales department at Nestlé Food Corp. and moving through many different areas. She compares her marketing career to a pie: "I filled in with every slice—I started with sales experience, then I had advertising, then I worked with pharmaceuticals and consumer products." She moved to Virginia, opened her own marketing firm, and began receiving e-mails from local students asking for advice on how to break into the field. Now she tailors personal experiences for lectures to business students at Virginia Tech's Pamplin College of Business, where she began teaching in 2008.
No class is the same for Wertalik's juniors and seniors. She handcrafts her lectures every week to include tweets, news updates, and humor. Recently she took her class to an advertising agency in Virginia "just to be in a different environment." For one topic, she substituted a game show for a quiz, complete with running students and ringing bells. "Class is not defined by four walls," she says. "It's defined by the experience of what happens in them, and students are a big part of that."
Wertalik received a BS in marketing from Fairleigh Dickinson University in 1993 and is currently working toward a master's in marketing from Southern New Hampshire University. "I always wanted to be an actress," she says. "Marketing is somewhat of a performance."
Students say:
• "Professor Wertalik has opened up doors for me that I wouldn't have had previously. She is dedicated to giving students the greatest opportunities possible. She applies real world situations in class."
• "She is very enthusiastic about the subject. At the same time, she makes me passionate about a future in marketing. A professor who allows you to learn and have fun simultaneously is very rare."
She says:
"I would probably do a cartwheel in the classroom to keep students motivated and excited."
Editor's Note: This profile is part of Bloomberg Businessweek's series on favorite undergraduate business professors. Subjects are chosen based on feedback collected in Bloomberg Businessweek's annual survey of senior business students. The featured professors are those mentioned most often by students as being their favorite. Student quotes come directly from the student survey.