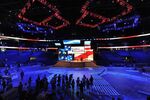 Trying to prep for my trip to Charlotte, N.C., to cover the Democratic National Convention has been, in a word, overwhelming. Who is speaking when and where? What protests are planned? Do I really need to block out four hours for security at Bank of America Stadium to attend President Obama's speech? Most important, how can I squeeze in shows by the rapper Common and the comedian Mo Rocca?
Turns out there are a slew of mobile apps trying to help clueless visitors such as myself and to connect with armchair conventioneers who won't be heading to Charlotte or Tampa, where the GOP event began on Friday. Both the Democrats and the Republicans have rolled out official apps. Since they are built by the same developer, TAT&T Solutions, it's not surprising that they are pretty similar. You can watch events live, follow news and tweets, and learn about local joints in the convention towns.
The major television networks are largely just showing an hour of live, prime-time coverage around 10 p.m. each night. (Reruns of Hawaii Five-0 and the NFL season opener are among the programming they're running while cable news saturates the airwaves with coverage of the parties' parties).
Fear not: The conventions will be live-streamed up the wazoo. And you have your choice of media when it comes to dedicated mobile apps. CNN and Time have teamed up on one called "Convention Floor Pass." It includes stories, calendars, and social-media feeds, then adds a game for visitors at the conventions to "bump" phones with other delegates in a race to meet people from all 50 states. Bloomberg News is feeding coverage into an app by Event Farm that also lets people at the conventions share and swap tickets to events. And the Charlotte Observer and Tampa Tribune each have apps devoted to lots of local coverage (though the Android version of the Charlotte app is a honking 32 MB, twice as large as any other app on my phone, so I gave up on trying to download it).
If you're looking to find donor and lobbyist parties to crash, try browsing the invites at the amusing Political Party Time site run by the Sunlight Foundation. Then you'll know where to head for the Personal Care Products Council's event at a salon in Tampa, a National Rifle Association "Shoot Out" (yes, also in Tampa), or Brunch with the Podestas (as in John and Heather) in Charlotte.
For folks following at home, convention planners will be making the events Twitter-friendly by promoting hashtags so people can join the conversation online, particularly during prime time. And Facebook is taking the opportunity to introduce its "I'm Voting" app, whose users can "commit to voting and endorse specific candidates and issues" through the election. You can even participate in polls and stream the events live on your XBox.
Which brings me back to being overwhelmed. If you have any suggestions as to where Bloomberg Businessweek should focus its reporting, drop a line to me, my colleague Elizabeth Dwoskin, who will be at the RNC, and lucky duck Josh Green, who will be at both. In the meantime, I suggest checking out one more website: the weather in Charlotte and Tampa. Looks like the most important device of all won't be an iPhone but … an umbrella. With a potential hurricane heading for landfall in Florida, even that may be too much to handle.
Before it's here, it's on the Bloomberg Terminal.
LEARN MORE