Chef Jose Garces's Office Bag Lunch
By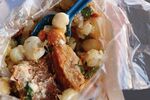 Ecuadorian American chef Jose Garces, owner of 15 restaurants in Philadelphia, Chicago, Atlantic City, Palm Springs, Calif., and Scottsdale, Ariz., (as well as Guapos Tacos, a food truck in Philly), is a James Beard Foundation Award winner and a champion of the Food Network's The Next Iron Chef. Garces shared with Bloomberg Businessweek his recipe for a salad with peas and hominy (a food made from corn kernels) from his second cookbook, The Latin Road Home, which will be published in October.
"This is a dish my mom would make me every year when fresh beans began showing up in the market," he says. "The two main ingredients are fresh peas, but you can also use garbanzo or fava beans, and hominy, which is a staple in Latin cuisine and can be found in most supermarkets. Combine those with a few other ingredients, chill, and you are ready to pack it up for lunch."
Ingredients
(Serves 2)

Kosher salt
1 lb. fresh English peas, shelled
1 cup canned hominy, drained and rinsed
1/2 jumbo carrot, peeled and finely diced
1/4 red onion, finely diced
1/2 tbsp minced fresh cilantro
1 to 2 cloves garlic, minced
3 tbsp extra virgin olive oil
1 tbsp freshly squeezed lime juice (about 1 lime)
Instructions
To prepare the peas, bring a saucepan of generously salted water to a boil and prepare an ice bath in a large bowl. Cook the peas in the boiling water just until tender—about 2 to 3 minutes. Drain and immediately transfer them to the ice bath to cool. Drain and set aside.
Combine the peas, hominy, carrot, onion, and cilantro in a large bowl and mix well. Stir in the garlic, oil, and lime juice and season to taste with salt. Cover and chill thoroughly before serving.
Before it's here, it's on the Bloomberg Terminal.
LEARN MORE