The U.S. Should Open the Books on Private Contractors
By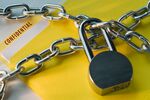 On Aug. 22, the U.S. Securities and Exchange Commission issued rules requiring U.S.-listed extractive companies such as Exxon Mobil to publish more information on payments they make to governments around the world. The idea, labeled "publish what you pay" by activists, is meant to increase transparency and ensure that revenues from mining and drilling in developing countries go toward government services and poverty reduction—rather than to buy yachts and fast cars for the likes of Teodorin Obiang, the profligate son of Equatorial Guinea's petro-dictator.
The regulations, mandated by the Dodd-Frank Act, are a great step forward. But it isn't just developing countries that need greater transparency about how money moves between the public treasury and private companies. It's long past time for the government of the United States to open up its books as well.
Every year, the U.S. government buys goods and services costing half a trillion dollars from private contractors. American taxpayers are collectively on the hook to pay these contracts. Yet with only a few exceptions, they can't find out what is being bought. It is difficult—and in some cases, impossible—for anyone outside a few bureaucrats and businesses to find out details on what the government is contracting for.
What we do know is that some $745 billion in U.S. federal contracts experienced significant overcharges, wasteful spending, or mismanagement over the period 2001-2006, according to Congressional investigators. There are lots of reasons why: The government frequently contracts for immensely complicated assignments, sometimes involving technologies yet to be invented (such as equipment for Mars rovers) and sometimes in very difficult environments (like Mars—or Iraq). Bureaucrats often have to manage multiple multimillion contracts at the same time. And contractors are sometimes out to make a dishonest buck; cartel activity has been found to raise prices for road projects by 8 percent in Florida, for example.
Requiring federal agencies to publish the details of such contracts can help both contractors and the government get more for their money. Seeing what the government is currently contracting for can help companies decide if they want to bid when it's time for contract renewal. A stock of public contracts to draw from helps both bureaucrats and enterprises learn from past successes and mistakes to create a better contract in the future. And people ranging from government watchdog organizations to competitors can examine contracts to see if the country is getting a good deal—or if there's evidence of overpayments or missing terms that might suggest fraud, collusion, or even corruption.
Under current law, concerned citizens can obtain copies of federal contracts, with confidential information redacted, under a Freedom of Information request. A company called Deltek operates the GovWin website, on which thousands of federal state and local government contracts collected through FOIA requests can be accessed. (About 12,000 contracts are available for $99 each.) But FOIA requests take time—14 months in the case of one recent request to see some USAID contracts. What is disclosed varies considerably, based on the whims of contractors and officials. In the case of the USAID contract, the price one contractor paid for copies of Windows XP was apparently considered a trade secret.
A better solution would be for the feds to proactively publish all contracts online, blacking out any specific information that both the contractor and the government's contract manager agree should remain confidential. That's not going to be too much extra work for either side; law firms in the U.S. already advise clients working with the government to flag information they think is confidential in case a Freedom of Information request is made.
Such an approach is feasible because it's already being done. Colombia's e-procurement website regularly publishes the full contract for procured goods and services. In 2008, the site was getting nearly half a million visitors a month. The U.K. launched a similar system last year. In the U.S., Florida's Miami-Dade County sometimes publishes full contracts on its procurement website.
If Colombia and Miami-Dade can manage this, presumably it would not be beyond the administrative capacity of the U.S. government. The costs of publication are close to zero. The benefits in terms of more efficient service delivery could be immense.
Before it's here, it's on the Bloomberg Terminal.
LEARN MORE