No Honeymoon for France's Hollande
Hollande's approval rating is down to 49 percent
By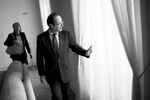 As he promised on the campaign trail, French President François Hollande has become a leading advocate for pro-growth, anti-austerity policies to address Europe's debt crisis. Just back from talks in Berlin with Chancellor Angela Merkel, he's set to meet over the next few days with the prime ministers of Greece, Spain, and Italy, and with European Union President Herman Van Rompuy.
French voters, however, do not seem impressed. A poll released Aug. 23 showed Hollande's approval rating has fallen to 49 percent, down 5 points since July. Some 72 percent of voters said Hollande had not been active enough in dealing with the economy and unemployment. Impatience is simmering "within the very heart of the president's electoral base," said Yves-Marie Cann of the CSA polling group that conducted the survey.
The French have good reasons to worry. Unemployment is already at 10 percent and certain to rise, as big French companies such as Peugeot, Air France, and Alcatel shed thousands of jobs, while others put thousands of employees on reduced work schedules. The economy has been stagnant all year, and the Bank of France has predicted it will contract during the third quarter. A July survey showed industrial confidence at its lowest level in almost three years. The coup de grace: Tourist revenues were down 10 percent in July because of rainy weather.
So far, Hollande hasn't asked most of his countrymen to make big sacrifices—but that is about to change. His 2012 budget plan, adopted in July, relied heavily on soak-the-rich measures, including higher wealth taxes and a 75 percent marginal tax rate on household incomes above €1 million. The budget for 2013, though, will almost certainly hit the middle class as he seeks to trim the budget deficit to a promised 3 percent, from 5.2 percent at the end of last year. The government is already hinting that its 2013 growth forecast of 1.2 percent may be overly optimistic, which will make the job that much harder.
"We are entering a new phase," says Laurent Dubois, a political scientist at the Paris institute Sciences Po. Higher taxes and reduced government services are inevitable, Dubois says, "and they will touch the hard core of Hollande's electorate."
Hollande hasn't yet given details of the 2013 budget plan, which will be presented in late September. But it's likely to call for a freeze on most government spending—which in effect will amount to a reduction in spending since it will not be indexed for inflation, Dubois says.
The Left is already grumbling. Jean-Luc Mélenchon, the far-left candidate who won 11.1 percent in the first round of presidential voting, described Hollande's first 100 days in office as "hollow … practically nothing" in an Aug. 19 interview with Paris newspaper Journal du Dimanche.
Yet if Hollande were to backtrack on his deficit-cutting promise, French borrowing costs could rise sharply. So far, investors have given his government the benefit of the doubt, with yields on French bonds at 3.4 percent during July. "An armed peace is a good way to describe the situation," says Philippe d'Arvisenet, an economist at BNP Paribas in Paris. "If the government doesn't present something credible, yields will go higher."
At the same time, Hollande is under pressure to trim costs in the health-care and retirement systems and to reduce payroll taxes on employers that hinder French companies' competitiveness. "For France, it's important to gain credibility by engaging in structural reform," Philippe Aghion, a Harvard University economist who advised the Hollande campaign, told Bloomberg Television on Aug. 17.
Former President Nicolas Sarkozy suffered low approval ratings during most of his presidency. But it took Sarkozy six months after his June 2007 election to slip below the 50 percent mark. Hollande has done it in less than four months, and climbing back out of the hole won't be easy.
Before it's here, it's on the Bloomberg Terminal.
LEARN MORE