pursuits
Lance Armstrong Is a Conglomerate. That Explains Everything
By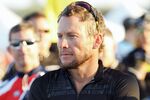 "Finally."
So tweeted Kathy LeMond, wife of Greg LeMond, now the only official American champion of the Tour de France, after the news broke late Thursday that Lance Armstrong would no longer contest charges that he had cheated (PDF) to win his seven Tour de France titles. By refusing to fight the charges, brought by the U.S. Anti-Doping Agency (USADA), Armstrong stands to lose his Tour titles, all of his other pro cycling victories since 1998 (including a 2000 Olympic bronze medal), and, aged 40, faces a lifetime ban from professional sports. Considering the source of the tweet—the LeMonds are ex-friends and legal adversaries of Armstrong—the one-word statement carried an unmistakable whiff of just deserts. But it also echoed Armstrong's own defiant statement that, while he never doped, "enough is enough."
And yet, by accepting USADA's sanctions, Armstrong has effectively prevented real closure, and left open the question of whether he misled fans, scammed prize committees, or defrauded his many sponsors, from the U.S. Postal Service to RadioShack, Discovery Channel, and Michelob Ultra, to the FRS Energy Drink and Honey Stinger waffle.
After a decade of rumors, accusations (most notably from former teammates Floyd Landis, stripped of his 2006 Tour win, and Tyler Hamilton, on CBS's 60 Minutes), and a two-year federal investigation (dropped in February), there's been no shortage of speculation about what went on and why we're still bothering with it. Armstrong's true believers take his side that USADA has conducted an "unconstitutional witch hunt," and that his persecution represents one more intrusive, Orwellian overreach of government. (USADA is funded by Congress; Armstrong appealed to his friend, Senator John McCain, to intervene on his behalf. McCain declined to do so, saying USADA was the appropriate forum for the doping charges against him.)
"Haters"—a term Armstrong himself uses, and even popularized—suggest he was never brought to task because he was the golden goose for his sport, and because of the "cancer shield": Maybe he wasn't clean, but look what he's done for cancer. His activism on behalf of cancer survivors was invoked as dispensation first in 1999, the first time he won the Tour de France, and the one time he tested positive for steroids during the Tour.
Clear away the heresy and theater—with a letter that basically says, "OK, you win," Armstrong's attorneys make a show of it—and this latest move is simply what corporations do when they want to limit liability. Pay the fine, but do not admit guilt, while serving notice that you'll be sorry if you slander us—that is, Lance—later.
For a world-renowned athlete, losing an Olympic medal and hard-won yellow jerseys might seem a steep, Alpe d'Huez-scale fine to accept. And it is. Yet compared with a public hearing with expected testimony from eyewitnesses that Armstrong took testosterone and the blood booster EPO, and took part in blood transfusions, Armstrong clearly accepts this outcome as the lesser of evils.
If the testimony against him was found credible—and given that it was to come from, among others, cyclist George Hincapie, a paragon—the USADA arbitration hearings could not only have fed ghoulish details into the news cycle, but also given ambitious lawyers ideas about how, say, RadioShack could claw back all its endorsement fees from Armstrong.
So this week's news is not really final; it's prophylactic. It is the least-risky strategy to protect Armstrong's remaining assets—and, to a lesser degree, his legacy. Armstrong gets to exit tarnished, but unbowed. For weary observers, though, it does leave the lasting, truly revolting impression that the French were right all along.
Before it's here, it's on the Bloomberg Terminal.
LEARN MORE