How Much Higher Can the NFL Network Go?
After the Cablevision deal, the peak is coming into view
By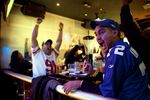 "Your dreams have indeed come true," anchor Rich Eisen told viewers when the NFL launched its own 24-hour network in November 2003. He was talking to whatever football maniacs could be found among satellite provider DirecTV's 11 million subscribers. Back then, no cable company had signed on to carry the NFL Network and USA Today predicted, "The NFL is about to find out if it's hard to be humble." Nine years later, the network is available in more than 60 million homes and commands some of the highest subscriber fees in the pay-TV business. After a deal with Cablevision on Aug. 16 to carry the network to roughly half of its 3 million homes, Time Warner Cable became the last holdout among major providers. Now the NFL Network is about to find out if there's anywhere to go but down.