How Much Higher Can the NFL Network Go?
After the Cablevision deal, the peak is coming into view
by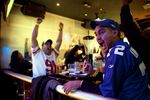 "Your dreams have indeed come true," anchor Rich Eisen told viewers when the NFL launched its own 24-hour network in November 2003. He was talking to whatever football maniacs could be found among satellite provider DirecTV's 11 million subscribers. Back then, no cable company had signed on to carry the NFL Network and USA Today predicted, "The NFL is about to find out if it's hard to be humble." Nine years later, the network is available in more than 60 million homes and commands some of the highest subscriber fees in the pay-TV business. After a deal with Cablevision on Aug. 16 to carry the network to roughly half of its 3 million homes, Time Warner Cable became the last holdout among major providers. Now the NFL Network is about to find out if there's anywhere to go but down.
The league made the leap from yet another niche network for the homebound to major player largely by adding live prime-time games to its lineup in 2006. Before that, programming consisted primarily of studio shows and gussied-up footage from old games. Top-10 cable providers either took a pass (Time Warner, Charter, Cablevision) or stashed the network on premium tiers (Comcast, Cox). After adding eight Thursday and Saturday night games, the league resolved a distribution battle with Comcast in 2009, signed a new long-term deal with Cox in 2010, and brought Charter into the fold last year. In February, the NFL announced that the network would add five Thursday night games to its lineup this season. Cablevision signed up six months later.
In the past year, according to data compiled by Horizon Media's Brad Adgate, all of the NFL Network's 20 highest-rated programs were either games or pre- and postgame shows. The peak came Thanksgiving night when 10.7 million tuned in to watch the San Francisco 49ers face the Baltimore Ravens. Compare that with the scant 25,000 viewers who watched the league's countdown of the top 100 players of 2012 on a Sunday night last May and you begin to see the NFL's dilemma. There are 256 NFL games in a regular season. (In the last round of collective bargaining, the players squashed plans to expand the season from 16 to 18 games, but the league hasn't abandoned the idea entirely.) The NFL can either sell inventory to its broadcast, cable, and satellite partners for ever-increasing fees. Or it can keep them to draw viewers (and pay-TV providers) to its own network.
"It is a tough balance for them without a doubt," says James Ratcliffe, a cable analyst at Barclays Capital. "The more games that end up on NFL Network and the choosier the NFL Network gets, the less the broadcast partners are willing to pay." Under its most recent deals, the NFL will reap about $6 billion a year from CBS, Fox, NBC, ESPN, and DirecTV, which pays $1 billion per year to offer every Sunday game live on a $200 pay package. That works out to about $25 million per regular-season game.
The NFL Network is set to top $200 million in net ad revenue this year, more than double last year's $99.6 million, according to estimates from SNL Kagan. That leap and the addition of five games are no coincidence. Games are the blue chips in ad sales the league packages with the rest of its programming. Combine the ad revenue with average subscriber fees of 81 cents from about 60 million in 2011, also according to SNL Kagan, and you get about $250 million in annual revenue, or about $20 million per live game.
After the Cablevision deal, NFL Media Chief Operating Officer Brian Rolapp told reporters the league had no plans to add or subtract games from its network "for the foreseeable future." If so, the ceiling for ratings is largely set. And beyond Time Warner, the same goes for subscriber reach. A Time Warner spokesperson told Bloomberg News that negotiations with the league continue. Rolapp told reporters on a conference call that the two sides "are not talking, regrettably, so as a result we're obviously not close." The calculation for Time Warner, says Barclays's Ratcliffe, is mostly a matter of pegging how many subscribers are likely to bolt for another carrier to get the NFL Network.
This threat gives the NFL and other sports networks power in negotiations. "The problem for distributors is that sports content tends to be very much non-substitutable," says Ratcliffe. "In theory, if you can't reach a deal to pick up USA Network, well, you've got TNT and TBS. On the other hand, you can't tell people, 'Don't worry about football, we'll get all these great hockey games.'" This is why the NFL sits behind only ESPN, TNT, and Disney, and just ahead of Fox News, in average subscriber fees (not counting 3D channels), despite having the bulk of viewers disappear for eight months out of the year. It's also why, as the New York Post points out, sports accounts for 20 percent of the cable audience but 50 percent of the industry's programming costs.
There's a limit, however, to how far the networks can push, as costs eventually get passed to subscribers. "How much more can it go? They're kind of asking for à la carte," says Adgate. "I mean you're paying five bucks a month for ESPN and you don't watch it?" And for the NFL Network, the peak is probably in view. Assuming Time Warner comes around, it's at about 70 million subscribers at close to a dollar each. But if trends hold, only about a tenth of those subscribers will actually tune in for each of the network's 13 games. Those are the eyeballs the league will have to sell for the foreseeable future.
Before it's here, it's on the Bloomberg Terminal.
LEARN MORE