The Quiet Success Of Discover, a Banking Underdog
By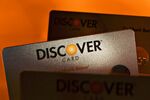 Trying to expand digital payments into the physical world, PayPal on Wednesday tapped a company that doesn't exactly come to mind when you think "tech savvy." It signed up Discover—the lesser-known sibling to Visa and MasterCard—to process its payments at merchants around the country. The deal gives PayPal an instant footprint in 7 million brick-and-mortar retailers, as well as an association with Discover, which has been a quiet success story of late. It's the second-best performer so far this year among the 81 financial stocks tracked in the S&P 500 Financials Sector index. (If you're interested, the best performer is Regions Financial, which is rebounding from near insolvency in 2008 to become the last large bank to repay its bailout funds this April.) After news of the PayPal partnership, Discover shares closed at  38.43, their highest level since the company was spun off from Morgan Stanley as a stand-alone company in 2007.
Discover's bounty comes from some advantages it gained during the financial crisis, which helped it evolve from a credit-card company into a full fledged consumer lender. In 2010, Discover scooped up Student Loan from Citigroup, which was selling non-core parts of its business at a discount. The move came as other lenders fled the student-loan market, which was massively transformed when the government ended subsidies for private loans. The easy money was gone—along with many competitors, so Discover could be one of the few private lenders around. Private student loans are now tightly underwritten; borrowers often must have parental co-signers with high credit scores to qualify. Since then, Discover has been building its student-loan portfolio and creating new products, including the May launch of a fixed-rate loan to compete head-to-head with federal loans.
While other large lenders are bogged down by problematic mortgages issued before the financial crisis, Discover has been able to start a mortgage lending business with a clean slate. In June, it began offering new home mortgages and refinancing to borrowers—lines that have been big breadwinners for other banks as homeowners refinance to take advantage of record low interest rates.
In its core business, Discover operates a payment network (like Visa and MasterCard) but it also is a lender (like American Express). This has let it profit from the surprising benefit of the 2009 overhaul to credit-card regulations. As I've noted, Discover's chief financial officer has said that a "silver lining" of the reforms has been more cautious lending across the industry, which has sent credit-card delinquencies to record lows and charge-offs (the debts a company assumes it will never collect) down to pre-crisis levels.
The deal with PayPal is a further boost to Discover's core business. It stands to drive more transactions across Discover's network, letting it take a slice of every swipe. Of the 25 analysts that cover Discover, three-quarters have a buy rating on the company. The more-optimistic ones think the stock will reach 45.
Before it's here, it's on the Bloomberg Terminal.
LEARN MORE