Better Health and Economic Growth
Jonathan Klein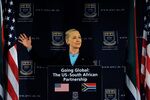 During her recent trip to South Africa, U.S. Secretary of State Hillary Rodham Clinton launched the official passing of administrative control of a U.S.-sponsored HIV/AIDS initiative to the South African government. This landmark moment in the fight against HIV/AIDS is testament to progress in the region—and progress in Sub-Saharan Africa at large.
Africa is home to seven of the 10 fastest-growing economies worldwide and also carries the highest disease burden of any continent. Clinton's recent trip, during which she visited nine African countries, reflected both realities: She spent time traveling with a U.S. business delegation as well as celebrating progress in U.S.-led efforts against HIV/AIDS.
I grew up in South Africa, have a personal commitment to global health, and am co-founder and chief executive of the global company Getty Images—and I followed the secretary's trip to Africa with great interest. I have seen the devastation that HIV/AIDS has wreaked throughout an already troubled community and economy, but some recent news has given me hope.
This month the New York Times reported that "the growth rate for the continent has crept up, rivaling Asia's overall growth at the height of the 'tiger economy' era of the 1990s." The Times also reports that 600 American companies have invested in South Africa alone.
Not surprisingly, Secretary Clinton expressed the U.S. desire to build partnerships as South Africa invests in its own infrastructure, saying they "will create massive new opportunities for American businesses," translating into more jobs in both South Africa and the U.S. Throughout Clinton's trip across the continent, she delivered repeated reminders about the U.S. promise to help improve public health, which will move other countries toward similar positive outcomes.
Through continued bilateral support for the President's Emergency Plan for AIDS Relief (PEPFAR), the U.S. can further strengthen its reputation abroad and its commitment to a healthier world. U.S. support of the Global Fund to Fight AIDS, Tuberculosis and Malaria, the world's largest health financier, stretches investments even further. Pooling the world's resources, the Global Fund finances programs in 150 countries that now save more than 100,000 lives every month.
The fund has also created innovative ways to engage the private sector in its lifesaving work. Partnering with well-known consumer brands such as Gap and Starbucks, (RED), an AIDS-fighting organization, has generated $190 million for Global Fund-financed HIV/AIDS programs. Other examples of Global Fund private sector engagement include Coca-Cola, which has lent its supply chain expertise to the Tanzanian government to help with the delivery of disease treatment, and Standard Bank, headquartered in South Africa, which provides pro bono training in accounting and bookkeeping to Global Fund grant recipients in seven African countries. As the Times article points out, many democracies on the continent, despite setbacks, have grown stronger. The stabilizing effects of global health and development efforts, such as those listed above, can continue to contribute to this progress.
There is still much work to be done, and we can't afford to backslide. As the Global Fund found in its last results report, Africa still accounts for 68 percent of new HIV infections and 72 percent of all deaths from AIDS. Furthermore, HIV-tuberculosis co-infection has become an increasing problem, especially in Africa.
The Global Fund has outlined its target to save 10 million lives and prevent 140 million to 180 million new infections of AIDS, tuberculosis, and malaria from 2012 to 2016. The private sector has a strong stake in this goal. U.S. support for healthier communities means stronger workforces, more active consumer markets, and growing economies. As it turns out, focusing on the public good by enabling people to live healthier lives is just good business sense.
And of course, it's not just the smart thing to do; it's the right thing to do.
Before it's here, it's on the Bloomberg Terminal.
LEARN MORE