Kayak: The Travel Upstart Google Could Crush
By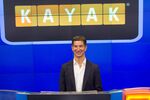 Amid the wreckage of Facebook's public debut and Groupon's perpetual goring, it's easy to overlook one of the few tech IPOs that hasn't flopped in 2012: Kayak Software, the meta-search travel site that combs a variety of sites when you hunt for a flight or hotel rate.
The company priced its IPO at $26 per share on July 19, garnering a $1 billion valuation as investors looked favorably on its steady growth, real cash-money income ($8 million in the first quarter of the year), and a revenue mix that balances advertising and referral fees from the big airlines and online travel agents such as Expedia and Priceline. Roughly 55 percent of Kayak's revenue is from advertising on its site, with the rest from fees it receives by sending travel hunters, who are very likely to buy, to the big travel sites.
In other words, it's a business based on real financial transactions, with nary a virtual tractor in the mix.
In its first profit report Wednesday, Kayak posted net income of 19¢ per share, or $7.3 million, 1¢ better than Wall Street's projection, while sales of $76.9 million also topped the outlook. The report sent shares down 4 percent, to $29.55, in after-market trading, following an 11 percent jump during the regular session. Kayak is down from a high of $35.35 in late July. The company's total queries rose to 304 million, up 33 percent from the same period of 2011, while mobile queries rose 95 percent, to 57 million. Revenue per 1,000 queries was $253, up slightly from $248.
Underscoring the soft income, Kayak (which is based in Norwalk, Conn.) faces a future that could prove rocky. The big, smelly elephant in its corner office remains Google, which bought travel technology firm ITA Software in 2011 for $700 million. ITA's software drives much of Kayak's airfare and hotel "faring" engine. To gain Justice Department approval for the deal, Google agreed to license ITA's fare search software for five years. That means Kayak's technology is supplied by a company that has slowly but methodically been building travel search functions into the most-used search engine on the planet.
ITA was the brainchild of several computer science professors at MIT, and its QPX search technology has won plaudits far and wide. That includes a pointed shout-out in Kayak's S-1 filing that conceded the ITA/Google competitors just aren't as good yet. Kayak has been expanding its fare search with Amadeus IT Holding, a travel technology company in Madrid, Spain, that has reduced its reliance on ITA searching from 61 percent of airfare searches in November 2011 to 39 percent this past May.
The scope of Google's interest in online travel remains one of the travel industry's greatest unanswered questions. Given the explosive growth of online searches in Europe and Asia, however—coupled with the attractive sums that hotels offer for customer referrals—it is a safe bet that Google will eventually try to gain a sizable piece of that pie. Kayak's current agreement with ITA concludes at the end of 2013, and while a continued relationship is likely, there are no guarantees that Kayak's business won't suffer as the result of a new deal.
Still, Morgan Stanley analyst Scott Devitt thinks the Google threat will remain muted for some time. "Google represents a significant threat to many companies, but its success in entering new verticals has been mixed," he wrote in an Aug. 14 report. "Google's flight and hotel metasearch product have thus far failed to cause any slowdown in Kayak's traffic or revenue growth."
"Thus far" has been a short period, less than a year. Longer term, even as its traffic growth soars with mobile and international customers, Kayak will continue to cast a wary eye toward Mountain View.
Before it's here, it's on the Bloomberg Terminal.
LEARN MORE