Homebuilders Look to Get Ahead of Demand
by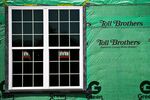 Megan McGrath, an analyst at MKM Partners who covers homebuilders, used to have a photograph in her office that showed a sign in Las Vegas that advertised: "Buy one house, get one free." For McGrath, the ad was a reminder of what she calls "the peak of the awfulness" in the industry she tracks. After so many years of pain, McGrath says things are looking up for homebuilders and has a "buy" rating on almost all of the industry's largest players, including Toll Brothers, KB Home, and Lennar.
The latest sign of optimism in the industry is luxury builder Toll Brothers' quarterly earnings Wednesday that blew past analyst estimates, as the company made $61.6 million in the quarter ended July 31—almost 50 percent more than the same period in 2011. Toll Brothers stock closed up $1.20 to $33.01, its highest price since the end of 2006. The Standard & Poor's Supercomposite Homebuilder Index of 11 companies is up 60 percent so far this year.
Some buyers look only at new homes, seeking either something they can easily customize or to avoid dealing with repairs to an older structure. But many buyers don't particularly care if a home is new or older, so long as the price, location, and characteristics meet their needs. Homebuilders may be attracting more of those vintage-agnostic buyers because there are so few existing homes for sale.
If you're looking to buy or know anyone who is, it's probably old news that there's tight inventory. Buck Horne, an analyst at Raymond James, says the difficulty of buyers to get an existing home is the main driver behind the bump. Fannie Mae, Freddie Mac, and the banks that manage foreclosures and distressed properties have been reluctant to dump those houses on the market. "The backlog is still huge, but it's coming back to the market at a glacial pace," Horne wrote in an e-mail. That's compounded by the number of underwater borrowers who can't easily sell because they owe more on their mortgage than their home is worth, as we've reported before.
The few affordable homes for sale are scooped up by investors and other all-cash buyers in many areas, which means regular homeowners who need a mortgage can't compete. Taken together, Horne says, "All of this is driving ordinary buyers to new home communities this year, because the supply of decent-quality existing homes has been picked clean already."
Publicly traded homebuilders like Toll and PulteGroup are also gaining market share because smaller, private builders either went belly up during the housing crash or can't get loans to buy land and build, explains McGrath. She says public builders were able to buy up some desirable land over the past few years, often focusing on smaller developments with, say, 30 or 50 homes rather than the mega-developments with hundreds of homes that were popular in the buildup to the bubble. "A lot of builders have told us that they don't want to do these giant master-planned communities if they can help it," McGrath says. They were also able to buy land closer to cities, which tends to be more desirable.
Builders aren't putting up homes on spec anymore, so they only build houses if they've received orders. In July, applications for new building permits reached the highest level since August 2008. If consumer confidence perks up, and people who've been on the sidelines for the better part of seven years of a down market keep looking to buy, the challenge for builders will be to have enough homes to meet the demand.
Before it's here, it's on the Bloomberg Terminal.
LEARN MORE