Independent Young Workers Favor Small Businesses
By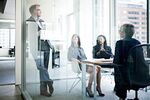 "I loved working at Google," says Jenny Blake, who managed career-development programs for the large tech company until 2011. "In many ways, it was my dream job," she admits. In the end, that wasn't enough to keep her there. Blake, now 28, left her spot on the ladder—and the free yoga classes—at the exalted employer to start out on her own as an author and career coach in New York.
While Google is still widely regarded as one of the best places to work, the corporate lifestyle and promises of a lifelong career may no longer seduce young workers as in the past. A new survey by the salary website PayScale and Millienial Branding, a Generation Y research and consulting firm in Boston, shows that Gen Y workers thirst for autonomy. They are more likely than the average worker to study to be entrepreneurs and to work at small ventures, posing challenges to large companies that are looking to hire young candidates.
"In our parents' generation, it was not as easy to start a business as it is now, with just a laptop and an Internet connection," says Blake.
Of 285,000 Gen Yers surveyed (aged 19 to 30), 47 percent work at companies smaller than 100 people. The national average in 2011 stood at 37 percent, according to the U.S. Bureau of Labor Statistics. And compared to the total of 3.5 million employees that PayScale included in the study, Gen Y members are  1.82 times more likely to major in entrepreneurial studies than the average U.S. worker.
Do young workers seek employment at smaller firms, or are those merely the jobs available to them?
Broadly speaking, this is a generation that values individualism and was raised to believe "I can do anything," says Peter Sheahan, chief executive of ChangeLabs in Denver.
The growing share of employment at small businesses is due in part to a tough hiring landscape, as there are generally more barriers to entry at big companies, says Dan Schawbel, managing partner of Millennial Branding. But it's not just that millennials can't find work in big enterprises. They're also more willing to take risks. "It's definitely an entrepreneurial generation, compared to others."
Research suggests that the young workforce is highly ambitious and career-focused. Smaller companies can appear to offer better odds of gaining experience and getting promoted quickly. In a Pew Research Center report released in February, people aged 18 to 34 are more likely than their older counterparts to value jobs that are not only high-paying but also beneficial to society.
"Not all small companies offer benefits, but they are willing to make these sacrifices," Schawbel adds. "They can get more involved in the affairs of the business—and there's a chance it could explode, so there could be much more benefit."
Unfortunately, ambition and reality don't always match up. Data that PayScale provided to Bloomberg Businessweek shows Gen Y workers at small businesses are slightly less satisfied with their jobs (65.5 percent say they are satisfied) than peers at large companies (67.3 percent). They are also less satisfied than older workers at companies of all sizes (all above 70 percent).
"We have seen a strong correlation between satisfaction and pay, and pay is typically higher for older workers and at larger companies," Katie Bardaro, the lead research analyst at PayScale, writes in an e-mail.
Blake says the biggest adjustment after leaving Google was to grow accustomed to uncertainty and not having a steady paycheck. "But there's unlimited potential," she says. "How much I earn is directly proportional to my ideas and my skills."