Get Smarter. It's the Economy Election
by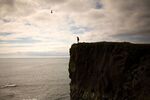 While both parties have expressed opposition to the "meat axe" approach to deficit reduction, they remain divided on a workable alternative. However, similar budget sequesters in 1988 and 1990, which were reduced or erased by subsequent legislation, may offer insight into a likely outcome.
—Jonathan Masters, Council on Foreign Relations: "What Is the Fiscal Cliff?" Aug. 1, 2012
The campaign is engaged and I have been reading up. Some analysis is complex, some nuanced: Real subtleties between the parties on the future of fiscal America.
Masters pens a tour-de-force of simplicity with two killer charts.
November is upon us. Get smarter. It's the Economy Election. Discuss.
Before it's here, it's on the Bloomberg Terminal.
LEARN MORE