business
Facebook Exposes Itself in Oregon
By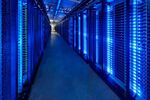 One of the least-likeable things about Google is its fascination with secrecy. The company watches over our searches, e-mails, photos, documents, movies, and friends—mining our digital lives for any morsel it can feed to advertisers. Yet Google gets hot and bothered when people poke around to try to find out how its algorithms work or ask about the company's data-center designs. Just about everything Google does is a competitive advantage worth protecting with N.S.A.-worthy flair, apparently. (Whatever happened to "I'll show you mine, if you'll show me yours?")
Facebook, the newer kid in town, does not exactly scream openness, either. It's got a black box humming away, tabulating our likes and dislikes. That said, unlike Google, Facebook does not fetishize secrecy for secrecy's sake. Case in point: Facebook's data center in Prineville, Ore.
In the past, Facebook leased space in other companies' data centers. A couple of years ago, though, Facebook decided that it could build its own facilities, which it could tune for its brand of software and to use less electricity. Top-of-the-line data centers can cost around $500 million these days, so the company took on a lot of risk with the project.
What makes Facebook's data center different from the average bear is its use of outside air. Most data centers regulate the temperature and humidity surrounding the computers with huge cooling systems that, in turn, require huge power systems. In Prineville, Facebook lets outside air into the building through vents, filters it, and then sprays the air with water as needed to control the humidity. A handful of chambers with automated valve mechanisms accomplish all of this, resulting in cool air falling down around the tens of thousands of servers preparing Facebook pages.
Google, Microsoft, and a couple of other really, really big guys do similar things, but they tend to keep their secret sauce an, um, secret. The flashiest data centers even come with armed guards and iris scanners. Facebook, by contrast, lets you amble around its computing centers, snapping pictures at will.
The company also provides the specifications it uses for its custom computers and storage systems. Instead of buying off-the-shelf gear, it designs its own motherboards that do away with power-hungry, nonessential parts. Facebook will even tell you which company actually builds these motherboards: It's Quanta (2382:TT).
There aren't that many companies around that can benefit from this information. Facebook, after all, has done all this work to suit pretty unique needs, and only so many companies are crafting 300,000-square-foot computing centers. Still, Facebook's power usage is thought to be among the most efficient in the industry; other companies can now see how it achieves this and perhaps build greener data centers of their own. "This is really expensive work they have done," says Dave Rosenberg, chief executive officer of Nodeable, a data-analytics company. "They've had to solve some infrastructure problems that had never been solved before, and now we're getting a shot at using that knowledge. I don't think they get enough credit for it."
Facebook has two other buildings at the site under construction—one of them a clone of the current data center, the other an additional facility that will be tuned to store data for long periods of time. It takes about 60 people to run one of its large buildings, including technicians and facility managers. Each server-repair specialist is expected to manage 15,000 computers.
Facebook already has another site up and running in North Carolina and is building an additional one in Sweden. While the company still leases some data-center space, its long-term plan is to bring everything in-house.
Josh Crass, one of Facebook's data-center managers, has been hopping around the country for years, shifting from one huge computing center to another. He used to work for Google and did stints in Iowa and The Dalles, another spot in Oregon. The big technology companies have all been placing huge computing plants in places with cheap, plentiful power, low taxes, and high bandwidth. Crass does not mind doing the high-tech thing in a rural setting. "This is a nice place to raise a family," he says of Prineville, a ranching and farming town of about 10,000 people.
For the locals, Facebook has manufactured at least a temporary economic boom. About 300 construction workers have been on-site for the last couple of years, and they're in the midst of building the new facilities. Apple also has decided to come to town with a new data center. Facebook spends $3.5 million in payroll on 64 local employees and says that $700,000 of every $1 million in its payroll is spent locally.  "We are not a white knight, but we know there is value in having Facebook here," says Ken Patchett, head honcho of the company's site.
Before it's here, it's on the Bloomberg Terminal.
LEARN MORE