Dell Hires Yet Another Superstar Executive to Save It
by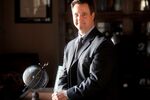 Dell posted its second-quarter results on Tuesday and made investors weep. Year-over-year revenue dropped 8 percent to $14.5 billion and net income fell nearly 20 percent to $732 million. Shares in Dell proceeded to tumble 5 percent in after-hours trading to around $11.70, which is in the range of what the company traded at before the dot-com boom. So that would be a whole mess of bad news.
Here's the good news: Dell has hired Marius Haas as its new head of all data center hardware, including servers, storage systems, and networking gear. Haas had recently been at the private equity house Kohlberg Kravis Roberts, trying to help the firm spot investment opportunities. Before that, he was a rising star at Hewlett-Packard, during the booming Mark Hurd days. Haas ran mergers and acquisitions for HP and then turned its networking business from a dud into one of the company's fastest-growing businesses.
People inside HP figured Haas a good bet to take over the CEO spot one day from Hurd. But then HP disposed of Hurd and began its journey to one of Dante's rings of hell; Haas bolted for the big-money job at KKR.
What could possibly make Haas want to leave the private equity life and go to Dell? "Dell has a strong brand, great customer relationships, tremendous talent, exceptional technology and an incredible growth opportunity," Haas said in a statement. "I'm excited to help realize the vision and drive the strategy forward."
OK then.
Dell declined to make Haas available to say anything more meaningful. But I suspect Haas fully intends on proving himself at Dell and then making a case that he should succeed Michael Dell as CEO when the time comes. At HP, Haas's ambition was matched only by that of Hurd, and it's hard to imagine anything other than a CEO spot satisfying him.
Earlier this year, Dell hired John Swainson, the former CEO of CA and a longtime IBM executive, to run its software business. Dell is collecting quite a stash of highflying veterans from other companies.
This brings us back to some bad news. Since returning as CEO in 2007, Michael Dell has gone through a number of executive overhauls in a bid to breathe new life into his company. Dell used to talk about aiming for $100 billion in annual revenue, yet it has been stuck around the $60 billion mark for years. It's gotten to the point that Michael Dell has been issuing nostalgic tweets about past success rather than forecasting big-time growth in Dell's future.
Before it's here, it's on the Bloomberg Terminal.
LEARN MORE