B-School Startups: Brewing Up Fulton Beer
Kate Abbott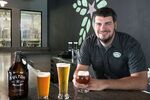 Editor's Note: This story is part of Bloomberg Businessweek's occasional series on the world of startups. The series focuses on MBAs and undergraduate business students who developed their ideas or launched their businesses while still in school, as well as the many ways their schools helped them get the new ventures off the ground.
In February 2006, Ryan Petz and three of his college buddies gathered in a garage around a Mr. Beer kit that one of the guys had received as a gag gift and began brewing a batch of beer. Soon after, brewing beer grew from a hobby to a passion for the foursome. By 2009, they had officially founded Fulton Beer in southwest Minneapolis using the same recipe they produced in the garage.
Bored with his job as a relocation counselor, Petz made the decision to enroll in business school in 2008. In his admission essay to the Carlson School of Management at nearby University of Minnesota, he wrote about starting his own brewery. After he was accepted into the MBA program, Petz decided to pursue the idea.
"After my first semester, the economy was beginning to nose dive, and business school internships were falling off the wayside," Petz says. "I was a little bit nervous about what I was going to do in summer. I thought: 'Maybe this is a good opportunity to start [brewing] right now.'"
The decision drove many of Petz's academic decisions.
He tailored his B-school course schedule to include entrepreneurial classes focused on startups and a marketing course related to craft beer sales. He worked on 'fantasy brewing projects' in three classes and also enlisted Carlson Ventures Enterprise Director Toby Nord as his adviser. Nord gave Petz some useful advice about internships. "What students these days need more than anything is someone to tell them it's O.K. to not take a traditional internship, as long as they're willing to put in the work and use some of the structures that they've been taught," Nord says.
Petz followed Nord's advice and created his own summer internship by launching a company without capital or connections. His classroom research led to a contract-brewing model by which Fulton Beer's recipes would be outsourced to a local brewery for production. In October 2009, Petz's summer work paid off with Fulton Beer's first launch event, at which all the kegs sold. The same day, Petz was offered a full-time job at General Mills, which he accepted.
By December, Fulton Beer's first product—an IPA called "Sweet Child of Vine"—was being served in 16 bars in the Twin Cities area. Petz says he began putting greater energy into developing Fulton Beer's business plan after an accounting professor advised him not to pursue a career solely for the salary.
After graduation, Petz began his job at General Mills as an associate channel manager, running Fulton Beer's business operations on the side. By that point, the company was brewing several 1,200-gallon batches per month. Petz and his co-founders continued contracting the brewing to a plant in Wisconsin, purchasing kegs to store the beer.
In August 2010, the group signed a lease for a brewery in downtown Minneapolis, located near Target Field, home of the Minnesota Twins. With money raised from investors, the founders opened the brewery in 2011 and in March added an onsite taproom.
Petz says that it took seven months from when he initially chose to found the brewery to selling the first beer. "I was pretty naive to think we could pull it together that fast, but I learned what you don't need to start a business," he says of the short development time frame. "It's amazing how much you can do without when you're getting started."
Petz left his job with General Mills earlier this year in order to help run the brewery's business and retail operations. Nord, a season-ticket holder for the Twins, acts as an informal adviser for the company. "I insure the quality of their product with constant vigilance," he jokes.
Nord says Petz's success came from his ability to understand the market, despite having an unusual startup. "As mega-brewers get bigger, there's a subculture of craft brewers that want to drink locally made beer by people they can reach out and touch," Nord says. "He's done an amazingly good job of trying to figure out what about what they had was special and that was going to differentiate them from other beers."
Petz now works with customers, hires new employees, and finds time to help brew several days a week. Fulton Beer currently brews four different recipes, available only in the Twin Cities. "When you start your own company, you can never afford to have one of every type of person or skill set," he says. "You need everybody to serve a variety of purposes … it's the kind of thing I thrive on."
Before it's here, it's on the Bloomberg Terminal.
LEARN MORE