B-School Photo of the Week: Cranfield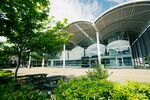 The Cranfield School of Management is one of Britain's top business schools. It has awarded MBA degrees since 1964 and executive MBAs since 1981. Cranfield's reputation as a preeminent research institution in sharply focused areas such as aerospace and bioscience carries over into its degree programs. Among the nontraditional degrees it offers are a Doctorate of Business Administration (DBA) and a defense-focused MBA.
Before it's here, it's on the Bloomberg Terminal.
LEARN MORE