Lawyers Expect Young Immigrants to Flood Small Employers
By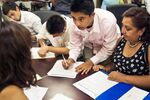 As many as 1.76 million unauthorized immigrants could gain temporary relief from deportation and be authorized to work legally in the U.S. under President Barack Obama's deportation deferral program announced earlier this year, according to the Migration Policy Institute, an immigration think tank. Long lines of young, potential beneficiaries formed in several cities across the country last week when the program's first applications were issued.
The program is open to undocumented immigrants who came to the U.S. before age 16. They must be in high school, have graduated from high school, earned a GED, or served honorably in the military, among other criteria.
What will the possible flood of new job applicants mean for small business owners? And how should small employers deal with existing employees who present work authorizations along with admissions that they were not previously authorized to work?
These questions are likely to arise as applications are processed and work authorization cards issued, says Bill Flynn, an attorney heading the immigration practice at Fowler White Boggs in Tampa. That will be particularly true for companies in California, Texas, Florida, New York, and Illinois, home to 57 percent of the total population of potential beneficiaries, three out of four of whom were born in Mexico or Central America, according to the MPI.
"A lot of information is yet to be determined as the details of the procedural aspects of the program come out over the next couple of months," Flynn says. There is also uncertainty about whether the program will move forward if President Obama is not reelected this November and what will happen after the program's stated two-year deferral period expires. Additionally, how states will handle the program is up in the air: Arizona Governor Jan Brewer last week instructed her state to deny driver's licenses and other state benefits to immigrants who qualify for the program.
Nevertheless, attorney Michael Wildes, managing partner at Wildes & Weinberg in Manhattan, is busy prepping his business clients about the program and says a majority of the newly authorized immigrants will likely find work with small businesses in both skilled and unskilled positions. The MPI estimates that 80,000 of the potentially eligible beneficiaries have an associate's degree or higher, 44 percent have a bachelor's degree, and 8 percent have advanced degrees.
Once they start getting hired, they will present employment authorization document (EAD) cards to verify their employability on the I-9 forms that employers must complete and file. The cards look like driver's licenses and should be accepted as legitimate documents, similar to green cards or American passports, says Jay Starkman, chief executive officer of Engage PEO, a Fort Lauderdale-based company that provides human resources to 50 small and midsize business owners.
The trickier situation will present itself when existing employees, who may have passed off phony documents, come to their bosses with EAD cards, Starkman says: "That puts employers in a really tough situation that may be damned-if-you-do, damned-if-you-don't." Some employers will not take kindly to such news and consider the lie grounds for termination, particularly if the employee works in a sensitive position of trust. Others may value the employee enough to overlook the past deception and continue the employment.
If an employer chooses to terminate based on the employee's admission, he should be aware that he could face a potential discrimination claim, Starkman says. "They're out of work because you fired them, and there are lawyers out there ready to pounce." The main defense in such a case is documentation that the business owner requires the same standard of honesty from all employees, whether they are "the blonde, blue-eyed secretary born in Ohio or the employee with a Latino surname," Flynn says.
For employers willing to keep an employee who used false documentation, it's important to keep all paperwork—old and new—in the employee's file, Flynn says. Immigration authorities have been "very enforcement-oriented" in recent years and audits are "busting people right and left," he says. To be on the safe side, he instructs clients to prepare a memorandum explaining the situation, documenting the paperwork presented initially, why they believed it to be legitimate, and including the new paperwork and date it was presented. "State that on a certain date you did the following and you now believe in good faith that your employee is in compliance with federal work authorization rules," Flynn says.
One final detail for employers to note is a confidentiality provision in the law, Starkman says. It's not yet clear whether that provision applies to both government authorities dealing with applicants as well as employers. To be on the safe side, he's telling clients not to discuss the immigration status of their employees—period. "'Congratulations to so-and-so who's just received their papers!' is not an item for the company newsletter. Keep it in the HR file," he says.
Before it's here, it's on the Bloomberg Terminal.
LEARN MORE