Got Lobster? Maine to Give Cheap Crustaceans a Marketing Makeover
By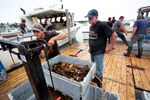 Lobsters haven't had this much attention since Woody Allen and Diane Keaton chased one around a kitchen in the movie Annie Hall. But prepare for a rise of the quirky crustacean once again.
While drought has wreaked havoc on crops across the country this summer, warmer waters off Maine's coast have left lobstermen with an unexpected bounty this year. That's sent prices plummeting from almost $4 a pound last year to just over half that. In order to capitalize on its newfound surplus, the country's largest lobster-producing state has to get more people to eat it.
The challenge is persuading Americans to consume a food they rarely see outside a surf-and-turf plate or smothered in mayo at a seaside stand. Time for a marketing makeover! Maine's Lobster Advisory Council unanimously voted on Aug. 16 to pump $3 million into marketing the delights of lobster, according to the Kennebec Journal. That's a big bet for a group that typically spends about $400,000 a year on the task.
The motive is clear. With prices at a 30-year low, Maine's lobster industry can't afford to let the ancient bottom-dweller sell itself. This is, after all, one of the few foods people usually have to kill to eat at home. (How would you like to exit this life in a pot of boiling water?) The idea of dunking shellfish in melted butter has also fallen out of fashion among certain groups. There's the allergy fear. Those weird eyes. Is there really much meat in those spindly legs?
To make matters worse, Canadian lobstermen have accused their U.S. rivals of dumping lobster north of the border. In recent weeks, hundreds of New Brunswick fishermen have staged protests and even blocked trucks filled with Maine product from being delivered to local processing plants. Bloomberg View columnist Amity Shlaes has weighed in on the mounting trade war. Soft-shell lobster, it turns out, is the new softwood lumber. She notes that Canadian lobstermen can harvest only part of the year and need to earn more per pound (or kilogram, this being Canada); those south of the border can haul in as much as they want. They just want to get rid of the stuff. Not every U.S. lobster hauler is coping with the problems of plenty. Down in the Florida Keys, a virus is reportedly causing a scarcity.
Of course, there will be no mention of that when marketing succulent morsels of lobster meat from Maine. Think bibs, claws, brisk days at the shore, laughter-filled seafood fests at night. Drown it in drawn butter? Mmmm. Worried about your waistline? It's a nutrient-rich health food, too. Life's more fun when there's lobster for everyone. Get that water hot and toss a lobster in your pot. Grab dinner by the tail. When it's red, it's dead. (OK, so $3 million will presumably buy a higher-level brand campaign than this writer's riffs.)
Some have cited California's iconic "Got Milk?" campaign as inspiration for what a strong food marketing campaign can do. Whether celebrities will hold a live lobster with the same ease that they'll sport a milk mustache remains to be seen. In the meantime, Maine is doing all it can to increase consumption within the state's borders. August marks the start of Maine Lobster Month, a period that will officially last through November. There's a Lobsterpalooza Harvest Celebration being planned for the last week of this month, and numerous other "Lobster Lovers" events are scheduled.
And Woody Allen? The guy who told Annie Hall "we should have gotten steaks, 'cause they don't have legs. They don't run around." Let's leave that guy somewhere in the Hamptons.