Goizueta Spared in Emory University Data Scandal
Francesca Di Meglio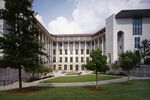 In a statement released Aug. 17, administrators at Atlanta's Emory University revealed that the school had intentionally misreported undergraduate admissions data to various external organizations, including publications that rank colleges and universities. A three-month investigation revealed that Emory College's Office of Admissions and the university's Office of Institutional Research have reported admitted students' SAT and ACT scores as enrolled student's scores since about 2000, which inflated the average, median, and range. In addition, the report showed that administrators also overstated class rankings.
As a publication known for ranking business programs, we were concerned about the data Emory provided to Bloomberg Businessweek. While the methodologies of our various MBA rankings do not include school-reported SAT and ACT scores, we do collect such scores from schools for use in the undergraduate business ranking, a ranking in which the university's Goizueta School of Business has consistently finished in the top five.
According to administrators at Goizueta, the test scores historically submitted to Businessweek are accurate. They say the business school has a separate system for collecting data and responding to questions used to determine rankings.
"With 300 to 335 or so juniors admitted into the undergraduate program every year, we have data on every member of the class," says Goizueta Dean Lawrence Benveniste. Unlike the greater university, the undergraduate business program reports these data only to Bloomberg Businessweek. In addition, its students enroll when they are juniors, not freshmen, so there are no "admitted" students who do not enroll, adds Benveniste.
"Goizueta goes to great lengths to ensure that the data it provides [are] accurate," says Andrea Hershatter, senior associate dean and director of the BBA Program. She explains that the school cross-references all the information on its students to the universitywide database to make sure no one is getting counted twice and that all the information on each student is factually correct. In fact, says Hershatter, administrators call students if their self-reported SAT or ACT score is different from the one on the university's admissions records. After all the data are collected, they are placed in an Excel file and cross-referenced again, this time with the information in the dean's office. Then, the data are reported.
Based on this information, Goizueta remains in good standing in the Bloomberg Businessweek rankings, as it doesn't appear any lines were crossed. As for the university as a whole, administrators have promised to provide honest information on their students in future reports to various organizations and publications. The university broadly outlined plans for providing internal checks to ensure accurate information is reported. And those responsible for the misreported numbers are no longer working at the university, according to the statement.
Before it's here, it's on the Bloomberg Terminal.
LEARN MORE