Best Buy's Bid for Time
By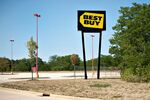 Best Buy's earnings report is due Tuesday and, like a kid who knows his report card looks grim, the struggling electronics retailer is trying gamely to change the subject. Its board named a new chief executive on Monday, hours after announcing that takeover negotiations with founder and ex-chairman Richard Schulze had fizzled. A clear sign that the board won't be taking the company private after all, the CEO change flustered investors and left analysts skeptical that Tuesday's earnings call will offer much in the way of a turnaround strategy, especially since the incoming CEO, Hubert Joly, doesn't yet have a U.S. visa.
In France, Joly was until Sunday the head of Carlson, a hospitality company that owns the Radisson and Country Inn chains. Best Buy's chairman, Hatim Tyabji, cited his range and imagination in a statement praising the new CEO. Joly hasn't worked anywhere particularly analogous to Best Buy, but he has some experience managing troubled companies, including Electronic Data Systems, now part of Hewlett-Packard, and the telecom and digital entertainment company Vivendi.
His new challenge, however, may be tougher. Like its fallen brick-and-mortar rivals, from Circuit City to Nobody Beats the Wiz, Best Buy has seen its fortunes fade in recent years as consumers turn to Amazon and other Internet retailers. Though Best Buy beat earnings expectations last quarter, its profits fell by 26 percent, and the pivot to Joly suggests things haven't improved.
"My expectations for tomorrow have gone down," says Daniel Binder, a senior equity research analyst at Jefferies & Co.. "You've got potentially not a whole lot new on the turnaround plan, and a CEO we're not familiar with. As an investor, you've got potentially a bumpy two- to three-year turnaround. I'm a little surprised the board hasn't been cooperative with Dick Schulze at this point."
Schulze stepped down as Best Buy's chairman in June, after an internal investigation concluded that he had "acted inappropriately" by concealing ex-CEO Brian Dunn's relationship with a female employee. He still owns a fifth of the company, though, and sent its stock surging earlier this month with a proposal to buy it outright at a valuation close to $8.5 billion. Monday's announcement erased those gains, sending BBY back below $20 a share. Schulze said in a statement that Joly's appointment and the termination of buyout negotiations "shocked" him because he was not given advance notice.
The palace intrigue serves to distract from what have so far been few details of Best Buy's bid for survival. A new CEO may buy the company some time. Binder says he expects Best Buy to expand its higher-end Magnolia appliances brand, a kind of store within a store, to more locations. New incentives for employees, like a pay structure based partly on departmental or group profits, may also be in the offing, he says. But the company has been shy to pitch a more radical overhaul. "We haven't heard a whole lot about what the turnaround plan is, so it's hard to say what it's going to take," Binder says. "But it sounds like there's a lot to do."
Before it's here, it's on the Bloomberg Terminal.
LEARN MORE