A Job Hunt Head Start, No Longer Optional
Alison Damast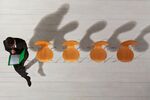 A trip to the career services office can often be put off by college students until the last minute, along with the myriad workshops that help them polish their résumés, learn interview etiquette, and improve their networking skills.
About a half-dozen undergraduate business schools are hoping to change that by making these typically optional activities a required part of the curriculum, sometimes as early as freshman year. By embedding these activities in the curriculum and requiring students to do them to graduate, administrators say they are helping prepare students better for the job and internship hunt, essentially giving them an edge in what remains a challenging job market for today's college students.
Howard University's School of Business requires freshman to take a class that requires students to practice interviewing techniques, résumé-building, and presentation skills, as well as to wear a suit to class twice a week. South Carolina State University's College of Business & Applied Professional Sciences requires students to participate in three professional development courses throughout their college careers. Villanova University's School of Business is another undergraduate business program moving aggressively in this direction.
For the past four years, as part of a required freshman class, business majors at Villanova have been expected to attend a total of six professional development events that focuse on such topics as career exploration, interviewing, skills building, and how to write a résumé. Melinda German, associate dean of the school's undergraduate business program, says that after attending those events, they must write reaction papers that count toward their classroom grade as well as write a professional résumé that's critiqued by staff from the university's career services center.
This year Villanova is ramping up the program—dubbed the Backpack to Briefcase curriculum—by requiring entering freshman to participate in a one-credit, standalone professional development course their sophomore year. They'll be expected to craft an internship and job search plan and participate in other career development activities, including a business etiquette dinner, German says. In their junior year, she adds, students will be asked to participate in a class that will give them a chance to apply some of the career skills they've learned over the previous two years; the class will culminate in a school case competition, in which students will present a case before alumni and local business leaders.
The hope, German says, is that the enhanced program will encourage students to take on several internships during their college years and refine their career interests earlier in their college careers. It will also give them a head start on their job hunt. Three months after graduation, 76 percent of the class of 2011 had accepted a job offer, according to the school. At Bloomberg Businessweek's top 10 undergraduate business programs, placement averages more than 94 percent.
"I think the earlier you get students involved, the better for everybody," says German. "I think what tends to happen is students go through the program their freshman year because it is required. They see the value of participation in these types of activities, but for many students, unless they are required to do it, something else will come along that will be more fun to do that evening."
There are other benefits, as well. Increased interaction with the school's career services office can have valuable monetary benefits for students. According to the National Association of Colleges & Employers' 2010 Student Survey, students who went to the career services office four or more times a semester had a median salary of $41,714, while those who never went had a median starting salary that was $5,700 lower, or $35,978.
University of San Diego's School of Business Administration has seen the benefits of making participation in career service events mandatory for students. Back in 2008, the school launched its "Professional Development Passport Program," modeled after a similar program at Xavier University's Williams College of Business. The San Diego program requires students to meet with a career services officer and attend a networking event. To graduate, they must accumulate nine "flexible passport points" by participating in such activities as a career fair, a business speaker panel, or an internship.
The school decided to implement the program after noticing that the school's accounting students, more than other business majors, conducted targeted job searches early in their college careers, says Tom Dalton, director of the business school's undergraduate programs. "We thought, why can't we take that idea and apply it to our finance, marketing, and management majors. We figured out that what we had to do was change their mindset."
The program has done just that. In 2007, before the school launched the Passport Program, only 56 percent of business majors had done an internship before they graduated. Last year, nearly three-quarters of business majors—73 percent— had completed an internship prior to leaving school. Says Dalton: "It has had a pretty dramatic impact."
Chris Von Heune, 21, a senior at the business school majoring in business administration, says the program gave him the skills and confidence to land three internships while in college, including one he is doing now at Merrill Lynch. The events he attended helped him develop a relationship with the career services staff, get valuable career advice from industry veterans, and even find a career mentor, whom he met at a networking event.
"It's been an amazing opportunity because it really helped me extend my network," he says.
Join the discussion on the Bloomberg Businessweek Business School Forum, visit us on Facebook, and follow @BWbschools on Twitter.
Before it's here, it's on the Bloomberg Terminal.
LEARN MORE