Getting MBA Women a Seat at the Table
Alison Damast
The summer of 2012 will be remembered as a time when a number of prominent MBA women's organizations and business schools took decisive action on getting more women onto corporate boards and into leadership roles at companies. The Forté Foundation announced an effort back in June, asking business schools to help them compile a list of board-ready women. In July, George Washington University's School of Business said it planed to create a new executive education program that will help prepare women to serve on boards. Now MBA Women International, a nonprofit with more than 5,000 global members, is starting a leadership academy that will help midcareer women get hands-on leadership training and coaching.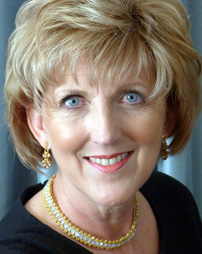 Gail Romero, who became chief executive of the group in January, has helped spearhead the launch of the academy during her first year on the job. She reached out to social scientists, human resources professionals, anthropologists, consultants, and educators to help craft the curriculum for the 15-month, mostly online program, which will require women to undergo a battery of rigorous leadership assessment tests, partake in coaching, and engage in role-playing exercises that will test their leadership skills. Students will also be schooled on what makes a strong leader, ethics, communications, and negotiations, and how to develop a global mindset. At the end of the program, if they pass a three-hour exam, they'll receive an Executive Leadership Certificate and will be expected to mentor other women who go through the course.
Bloomberg Businessweek's Alison Damast caught up with Romero this week and spoke with her about her new role. This is an edited transcript of their conversation.
What appealed to you about becoming CEO of MBA Women International?
I've been consulting for 17 years, working at nonprofits, and have always been focused on what the issues were that women and girls have had to deal with. Two of the board members came to me in November last year and said they were looking for someone who could really take hold of an organization that had basically been student-run for 29 years and turn it into a huge-impact organization for women and girls. The idea was extremely exciting, and that is why I jumped on it.
It's only your first year on the job, but you've already managed to shake things up by starting the International Leadership Academy. How did you come up with the idea for the program?
It was a series of events, but one of them was an audit we did with our corporate partners. They started telling me what skill sets they needed so they could keep women. They knew women were leaving their corporations, not to go have babies but because they got frustrated with the corporate culture. They wanted to know how we could help women leaders grow more and understand the issues that are at play. The corporations basically said if you do that, then let us hire the women who have that education, and together we will all be more successful.
What do you feel are some of the challenges women face as they try to move up the corporate ladder, and how will the academy address those issues?
Most of the corporations have a culture that women feel alienated from. They don't necessarily have good mentorship or sponsorship opportunities. Still, a lot of organizations have specific programs for women within their organizations that help them grow through the company, but it is expensive, and companies spend a lot of time and a lot of energy on it. If we can do something on a broader basis, it will make it easier for those corporations that have not started a program yet to have an outside place to send their high-potential women.
What is your ultimate goal for the program?
We are focused on getting women into the C-suite. Our goal is when women get through the program, we want to make sure our corporate partners are aware of them. We also want our graduates to give back so that more women can be mentored, sponsored, and networked with. What we really want is to propel this into an everyday occurrence where women are helping women.
What's the best piece of advice you could give to today's female MBA students?
I was recently at a university and was able to sit in and watch a new class of MBA students as they went forward and did case studies. From that I realized that the most important thing to start practicing now is having a voice and a seat at the table. Don't just sit back and let someone else comment or share an idea, but step forward. It is ultimately wrong, and it is not O.K, to be silent. You have to have a voice, because you can't be a leader without one.
Before it's here, it's on the Bloomberg Terminal.
LEARN MORE