With Creativity, the Computing Industry Can Survive Windows 8
By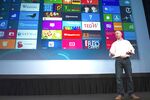 Well, kids. Here we go.
This week, Microsoft rubber-stamped Windows 8 as good to go for manufacturers. This means PC makers and other partners can grab the operating system code and test it out with their products, which should start arriving Oct. 26, when Windows 8 becomes available to the public. All of this is to say: Let the battle for the future of computing commence.
For as long as I can remember, the release of a new version of Windows represents an opportunity for the media to opine on the future of Microsoft. The company will either thrive or vanish into irrelevance based on this latest iteration of Windows. Such reasoning tends to look silly in hindsight. After all, Microsoft minted plenty of money during the dismal Vista days and minted plenty of money during the well-received Windows 7 era.
What's really at stake with Windows 8 is not Microsoft's future but rather the near-term future of the computing industry.
Over the past couple of years, we've seen plenty of companies do battle with Apple and lose. Apple remains the only player with a computer-to-tablet-to-smartphone story that anyone wants to buy. The Samsung-dominated Android camp can churn out a decent smartphone, but Android is obviously outmatched when it comes to tablets. Meanwhile, Google's ChromeOS—the  Android camp's best offering on PCs—is as unloved as Google+, unless you work at Google, which you probably don't.
The weaknesses of software alternatives to iOS have only been exacerbated by the woeful hardware churned out by the likes of Dell, Hewlett-Packard, and Acer. It defies belief that a half-dozen hardware giants would be willing to sit idle for years—never summoning the resolve to do anything daring—but that is exactly what has happened. As a result, Apple stands at the ready to vacuum up the vast majority of the profits available in the tablet and, to a lesser degree, laptop markets.
(This may sound like a harsh assessment, but it's true, and this is precisely why Microsoft decided to start making its own tablets. Microsoft deserves, of course, plenty of blame for this state of affairs, having sucked most of the profits out of the PC market, fumbled the smartphone business so badly, and trailed on plenty of OS features that people expect.)
With Windows 8, we get to find out what the non-Apple computing industry really has left.
By this, I mean that, yes, Microsoft will sell plenty of copies of Windows 8, and, yes, the PC makers will sell plenty of computers. But let's see which companies can take Microsoft's software and online services and bundle them together into a lifestyle choice that rivals what Apple has on offer on all manner of devices. (Soon enough, this will go for TVs, cars, and home appliances, too.)
Just about everyone—even Apple fans—should hope that some company gets its act together, takes some risks, and wows the public on the back of Windows 8. It's the sort of competition the industry needs to be healthy and for innovation to continue at a furious clip.
Before it's here, it's on the Bloomberg Terminal.
LEARN MORE