Why the N.Y. Fed's Empire State Survey Still Matters
The New York Fed watches the state's manufacturing closely
By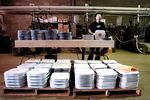 The latest Empire State manufacturing survey, released Aug. 15, showed definite softness in manufacturing in New York state, perhaps foreshadowing a slowdown in manufacturing growth for the country as a whole.
To many non-economists, the idea of New York state being a reliable indicator of manufacturing can appear a little odd. Manhattanites anchored to their desks have trouble imagining an industrial landscape anywhere in New York, even though many have likely never been upstate.
Yet manufacturers of all sorts continue to produce goods and employ workers in the state. Industries include semiconductors, chemicals, paper products, apparel, transportation equipment (which includes auto parts), and fabricated metals such as pipe fittings. New York's manufacturers employ about 460,000 workers—about 5 percent of the state's workforce of 8.8 million, according to Jason Bram, an economist at the New York Federal Reserve Bank, which compiles the Empire State index. There are even 75,000 manufacturing workers in New York City, including 15,000 who still labor in the apparel industry.
Much of what is produced is shipped to Canada and other foreign destinations. The Philadelphia Fed produces a similar monthly survey covering its region of eastern Pennsylvania, Delaware, and southern New Jersey.
Each month the New York Fed sends a survey to manufacturers to gauge trends in the state's industries. About 80 to 100 companies usually respond. Why such lavish attention to such a small part of the state economy? Bram points out that manufacturers have a multiplier effect on the state economy, generating work for professionals such as lawyers and accountants, and service companies, too. "Manufacturing tends to be very cyclical," Bram says. "Manufacturers are more inclined than other firms to lay off and hire. They are more of a barometer of what's going on in the economy than other industries."
Before it's here, it's on the Bloomberg Terminal.
LEARN MORE