Small Business Still Credit-Crunched, New York Fed Poll Says
By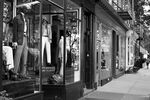 Small businesses in metro New York are still having trouble borrowing, according to a new poll released today by the Federal Reserve Bank of New York.
The poll is part of policy makers' effort to understand why loans to small businesses have been declining since the financial crisis four years ago. Is it because banks severely tightened lending standards during the crisis and haven't eased them sufficiently, as many businesses assert? Or is it because healthy businesses don't want to borrow, as banks have suggested? Or some mix of both?
No survey can fully answer the question. The New York Fed's analysis suggests that there's demand that banks aren't meeting, even as weaker businesses are opting not to borrow.
More than a quarter of the 544 businesses polled didn't apply for credit in the last year because they thought they'd be turned down. These "discouraged borrowers" tended to be weaker companies  with less-established banking relationships.
Of those companies that did apply for credit, a majority got some financing, but only 13 percent got the full amount they requested. The demand for loans under $100,000 was highest, and these proved harder to get, according to Claire Kramer, an officer in the bank's Regional and Community Outreach department. "Denial rates for these amounts in fact were higher than for larger loan amounts," she says.
On average, loan applicants sought three types of credit. The most desired type of financing—new lines of credit—was least-often approved, with only 13 percent of applicants getting new credit lines. Business and personal credit cards were much easier to get, with more than 40 percent of those applications approved.
The survey didn't show whether lenders were steering businesses to certain types of loans over others, though Kramer says it may be a question the New York Fed looks at in future surveys.
The online poll queried 544 companies in New York, New Jersey, and Fairfield County, Conn., in April and May. About half were in New York City. Most respondents had fewer than 10 employees and less than $5 million in annual sales.
Before it's here, it's on the Bloomberg Terminal.
LEARN MORE