Recovery Slow to Come to Smallest Businesses
By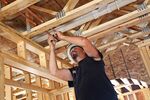 The nation's smallest businesses—those with no employees other than their owners—failed to regain the ground they lost during the Great Recession in the first full year of recovery, Census data released today show.
These businesses on average lost $1,000 in revenue from 2008 to 2009, or 2.5 percent of sales, and they didn't make up that difference in 2010, the first year of growth after the downturn.
They're heavily concentrated in construction, real estate, professional services, retail, and health care. In Census jargon, these ventures are known as "nonemployers," or any business that's run just by the owners, with no one else on the payroll. Think of accountants or psychologists who work out of their homes, or solo workers like carpenters, truckers, and real estate agents. Together, nonemployers have nearly $1 trillion in revenue, or more than 6 percent of U.S. gross domestic product.
The Census data, based on tax returns, don't yet go beyond 2010, and a change in methodology makes it difficult to compare in detail with years before 2008. Despite these limitations, we know the average nonemployer had revenue of $43,600 in 2008. The next year, that figure dropped to $42,500, and recovered to only $43,000 in 2010.
Some industries got hit much harder. On average, nonemployer construction businesses lost 9 percent of their revenue in that period, bringing it to $50,000. Nearly 100,000 of them disappeared. Though contractors suffered, brokers' business picked up. Average sales for real estate professionals increased from $78,000 in 2008 to $89,000 two years later.
At nonemployer hotels, restaurants, bars, and caterers, sales dropped on average from about $51,000 to $44,000 in that period. Despite the lower payoff, the number of these businesses also increased, by about 6 percent. Perhaps workers laid off in 2008 tried their luck at hospitality to make ends meet.