Go Consumer! The Mixed Picture for Retail Spending
By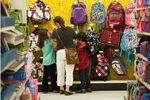 Nobody breaks a pundit's heart like the U.S. consumer. Since late 2008, these fickle folks have kept economists guessing. One minute, they're confident. The next, they're not. Even now, with the U.S. unemployment rate rising to 8.3 percent and Europe edging into recession, Americans are spending again. Sales rose 0.8 percent last month, according to the Commerce Department, which prompted relief after months of decline.
The National Retail Federation predicts people will spend $688.62 in back-to-school shopping for the K-12 set, up from $603.63 last year. Those with college kids will shell out even more: $907.22 vs. $808.71 last year. If the industry group is right, that means almost $84 billion flowing to retailers.
Phew! With 70 percent of the U.S. economy fueled by consumer spending, what people do with their wallets is an endless source of fascination. As pundits probe Americans' pocketbooks right now, they like what they see. On Aug. 15, Target raised its annual profit forecast, even though its second-quarter earnings of $704 million were the same as a year ago. Macy's profit was up 16 percent last quarter, and the company is about to open the world's largest shoe department in its iconic Manhattan store. Gas prices are down. Import costs are down. Wal-Mart Stores, the country's largest discount retailer, will add more fodder to the debate when it reports its earnings on Aug. 16.
And yet no one is quite sure how long the good times will last. The Bloomberg Consumer Comfort Index dropped to minus 41.9 in the week that ended Aug. 5. On that measure, at least, Americans are feeling more discouraged about the economy than at any time since February. So why are they spending? Did they commence back-to-school shopping in July, inspired by all those 75 percent off signs? Will they be as excited about buying shoes if food costs rise because of the drought we've been reading about all summer?
What consumers say and what they do are not always in sync. The best clues come from their behavior. Start with what they're buying. While the back-to-school mood and discounts may have spurred clothing sales last month, Americans also boosted their spending on cars, furniture, electronics, building materials, and sporting goods. The big winners continue to be those sitting on opposite ends of the spectrum: luxury brands that cater to the wealthy, or discounters that survive on selling things cheap. So the real challenge is for those who cater to the middle, whether it's J.C. Penney or Kohl's in clothing or Best Buy in electronics. If wages and salaries continue to outpace inflation, as they have in the first half of the year, Americans may well feel flush enough to splurge a little more here and there. If they don't? Well, that's probably good news for Wal-Mart.
Its stock is already hitting highs not seen in more than a decade. Everyone expects a burst of good news from the retailer. But much of its good fortune may come at the expense of overall spending as consumers trade down. A good day for Wal-Mart could give both pessimists and optimists fodder, making U.S. consumers once again a fickle indicator of overall economic health.
Before it's here, it's on the Bloomberg Terminal.
LEARN MORE