ForumWatch: Pros and Cons of Part-Time MBAs
Francesca Di Meglio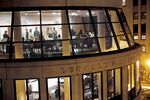 With a still-sluggish economy plaguing the world, many aspiring MBAs are considering alternatives to full-time programs that don't require forgoing two years of salary. As a result, many who are thinking about earning an MBA join the Bloomberg Businessweek Business School Forums to discuss the pros and cons of part-time and executive programs.
Recently, rohitibizschool posted a message asking about part-time programs in the Bay Area. Responses included discussion of the comparisons between part-time and full-time programs. Share your opinion at the "Part-time MBA programs in California" discussion thread.
Editor's Note: This blog post is part of a series about discussions taking place on the Bloomberg Businessweek Business School Forums, where prospective MBA program applicants, current students, and recent alumni trade admissions tips, job-hunting advice, and the occasional barbed comment. We invite you to join these discussions or start one of your own.
Before it's here, it's on the Bloomberg Terminal.
LEARN MORE