Arctic Dispatch: Dreaming of Cheeseburgers
Collin West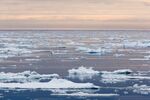 Editor's Note: Collin West is part of a team, which includes MBA graduates from Northwestern's Kellogg School of Management and Wharton, attempting to cross the Arctic Ocean in a rowboat to raise awareness of global warming. He is blogging about his experience on the Arctic Row team for Bloomberg Businessweek.
Today was a good day to reflect on our expedition because we hit a huge milestone—we are now less than 500 miles from our destination in Russia. To accomplish this milestone we have been on our ocean rowboat, unsupported and nonstop, for 28 days straight, and we're finally closing in on the finish line after rowing nearly 1,000 miles. Because of this, we hope to be only two weeks away from landing on shore.
As all four of us steadily gain mileage—rowing four hours on, four hours off, for 24 hours a day—we have a lot of time to think and chat during our rowing sessions. Then, in our off time, we cook, eat, read, write, make brief satellite calls to loved ones, and sleep. This means we effectively have eight-hour "mini-days," sleeping about two hours each "night" (a sleeping method that was adopted by Leonardo da Vinci). Because of continuous daylight in the Arctic Circle, this sleeping schedule  leads to a lot of confusion about what time of day it is back home in the real world.
Spending time reflecting on the row has been uplifting. It's easy to start feeling sorry for yourself while rowing 12 hours a day, missing your friends and family, while constantly wet and cold. Shoot, each of us has already lost at least 25 pounds, and I dream about cheeseburgers every time I sleep—three times a day. For me, the way to combat getting down is to purposely flip my attitude from negative to positive. I remind myself that I'm rowing for the friends and family I miss so much and that the wet and cold is miserable, but this journey is fleeting—so I better to enjoy it now, before it's over. This really helps.
The same thing works in the real world. My last two years were spent earning a Kellogg MBA, which involved countless projects, meetings, and conferences (as well as a lot of fun people, parties, and club events). While in school, my professional focus was on entering the venture capital industry, so I spent my time meeting thought leaders, researching best practices, and taking on multiple internships in the venture industry. Between planning this expedition with our four-man team for the past two years and arranging a wedding, believe me, I felt pulled in a dozen directions and wanted to rip my hair out many a time. But, from the positive perspective, the last two years have been among the happiest of my life. I received an MBA from a school I am humbled to have attended. Kellogg springboarded me into undertaking this historic expedition and my dream job as a venture capitalist at Correlation Ventures. Even better, I married my best friend. This all sounds a lot better from a positive point of view. Perspective makes all the difference.
If you get a chance to steal a moment today, try to reflect and take a positive perspective for your busy life. It can be very uplifting. Heck, it may even be as good as the first cheeseburger I chow down when we hit land.
Here are a few other observations from the last few days:
• Life on the water = cold. Last week was by far the coldest week of our row. We encountered snow and absolutely unrelenting wind. Because of this, we have had a really hard time keeping our feet warm. For hours our feet would be completely numb, so we started to worry about getting frostbite. To combat this, I cut up some sheepskin and duct taped them into makeshift moccasins to wear inside my rubber boots. It's been working like a charm. Both functional and fashionable. Then, after each shift, to warm our bodies we put boiling water in bottles and slept with them in our sleeping bags. Problem solved.
• Last week we saw killer whales, seals, sea lions, and countless humpback whales. The humpbacks were quite a show—a huge pod was spouting water over 20 feet into the air as the whales traveled parallel to our boat.
Before it's here, it's on the Bloomberg Terminal.
LEARN MORE