Wells Fargo Complicates Ally's Independence Plan
by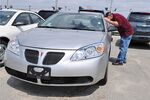 "Lost another loan to Ditech." Future archaeologists and history professors will surely love to invoke those annoying ads from the subprimetastic 2000s. Ditech was the very public face of General Motors' longtime finance sub-empire GMAC—specifically its Res Cap mortgage arm. That business famously marketed 125 percent loans to borrowers keen to take out money in excess of the value of their homes. Throw in interest-only mortgages and liar loans and GMAC was one jolly enabler of the housing bubble.
Accordingly, the U.S. now owns 74 percent of GMAC, which took $17 billion in Treasury aid and has since renamed itself Ally Financial. To win (rather, buy) back its independence, Ally needs to make the most of its old, core auto-finance business, especially with Detroit on the rebound. U.S. sales of cars and light trucks are up 14 percent this year through July.
Problem: Wells Fargo, one of the country's biggest, most aggressive banks, now wants a chunk of that turf. Bloomberg's Dakin Campbell writes that Wells is expanding loans to customers of General Motors. The automaker, which gave birth to Ally in 1919 before selling a majority position in 2006, had already tapped Wells Fargo to finance Chevrolet, Buick, GMC,  and Cadillac purchases in its U.S. west marketing region. San Francisco-based Wells then parlayed that relationship into an even bigger one that includes GM's south-central region. So in addition to dominating the mortgage business, Wells Fargo is now the country's second-biggest auto lender, after Ally. Its auto loans rose 18 percent, to a record $6.6 billion, in the second quarter from a year earlier.
Ally is contractually stipulated to be GM's preferred lender through Dec. 31, 2013. It's also vying for more financing business from Chrysler, which is being courted not just by Wells Fargo but also by Santander Holdings USA, General Electric Capital, U.S. Bancorp, and JPMorgan Chase, three people familiar with the talks told Bloomberg News in early 2012.
"Our objective in life is pretty straightforward," Ally Chief Executive Officer Michael Carpenter said in an Aug. 1 conference call. "It's to continue building the auto business, to continue to build the bank, and it's to get the U.S. government completely out of their shareowner position."
To get the government off its back, Ally will need to pull off a successful initial public offering. That milestone has been delayed, thanks to the deterioration of its mortgage business. In May, Ally's ResCap unit filed for Chapter 11 bankruptcy. This came after the Federal Reserve in March flunked Ally in its tougher stress tests of financial institutions; Ally was actually the worst-performing of the 19 examined banks.
Now comes the Wells Fargo challenge. None of which inspires confidence in a bailout endgame.
Before it's here, it's on the Bloomberg Terminal.
LEARN MORE