Solving the Mystery of Rising Gasoline Prices
U.S. refineries are in the wrong place
by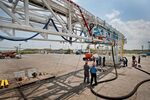 Gasoline prices have now risen for seven straight weeks. At $3.78 a gallon, the national average is up 36 cents since July 2. That's 12¢ higher than it was at this time last year, and it's almost exactly where it was two years ago.
Since then the U.S. has vastly increased the amount of oil it produces. At 6.28 million barrels per day, domestic oil production is up more than 14 percent (PDF) in the last 12 months alone. If you factor out production declines in Alaska, the lower 48 states are producing 16 percent more oil than they were just a year ago. Most of that new oil is priced against the West Texas Intermediate benchmark, which for the last two years has been trading at a steep discount to its international equivalent, Brent. Yet all this cheap, new domestic crude hasn't been able to put a dent in gasoline prices. Unless you think they'd be higher without it, which isn't likely, considering demand continues to fall. Americans are using the same amount of gasoline as they were back in the late '90s. So what gives?
It's a logistics problem. The sudden rise in U.S. oil production has outpaced our ability to refine it efficiently. Most of that new domestic crude is coming from the middle of the country: North Dakota, Texas, Oklahoma, and Kansas. As of May, North Dakota was producing 639,000 barrels of oil per day, 75 percent more than it was 12 months earlier. The problem is that no refineries exist up there. The biggest refining hub in the U.S. is along the Gulf Coast, followed by the Philadelphia/New Jersey area and Southern California. That made sense in the days when the U.S. imported most of its oil. Now, with foreign imports falling and domestic production skyrocketing, not so much.
So our refineries are in the wrong place. Or maybe the oil is. Either way, that physical dislocation between the two is a big reason why gasoline prices aren't lower. Here are two basic statistics that flesh that out. In the Midwest, where refiners have easy access to cheap, domestic crude, the average refinery utilization rate is 97.6 percent. Meaning they're basically running full tilt, and making great profits, too. On the East Coast, where refiners have a very limited supply of cheap, domestic crude, they're running at 83 percent. This difference shows up in the disparity of gas prices across the country. Check out this heat map, which shows that states with the cheapest gasoline tend to be in the southern portion of the middle of the country. In the Northeast, where refiners have to take imported oil tied to Brent prices, gasoline prices are higher.
Factors coming into play should bring gasoline prices back down fairly soon. For one, most of the country's refiners switch to a winter blend of gasoline on Sept. 15, which tends to lower prices through the fourth quarter. The exception is California, which does not make the switch, and where gasoline prices are already high and spiking after that Chevron refinery fire.
Second, a number of efforts are underway to get that North Dakota oil from the Bakken field to the East Coast by rail. Some of it is already reaching Albany, N.Y. Tom Kloza, chief oil analyst at the Oil Price Information Services, believes that ultimately 500,000 barrels a day of Bakken crude will make it to the East Coast. Here's why that matters: Currently oil out of the Bakken is trading at about a 60¢ discount to WTI, at about $92.70 a barrel. Kloza estimates that it costs about $16 a barrel to ship crude from the Bakken by rail to the refining hub outside Philadelphia, giving it an ultimate price of about $108 a barrel.
Meanwhile, the price of oil from West Africa priced against Brent is currently trading at about $114. Add in about $4 a barrel of shipping expense to get it to refiners on the East Coast, and the Bakken crude still comes out $10 cheaper: Big savings that could ultimately show up at the pump.
Before it's here, it's on the Bloomberg Terminal.
LEARN MORE