Short Jackson Pollock! Go Long on Damien Hirst!
Liquid Rarity Exchange wants to turn fine art into a tradeable security
By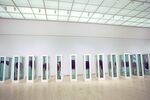 In 1986, two Australians came up with a way for art fans of even the most modest means to own a Picasso. They bought one—a 1959 work titled Trois Femmes—and announced plans to cut it up into 500 one-inch squares to be sold for $135 apiece.