Let Them Fly at 350 Feet
by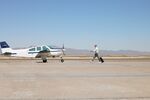 Any sequestration order issued by the President under the Balanced Budget and Emergency Deficit Control Act of 1985 to carry out reductions to direct spending for the defense function (050) for fiscal year 2013 pursuant to section 251A of such Act shall have no force or effect.
—Legislation introduced by Representative Paul Ryan (R-Wisc.), in Scott Lilly's "Oops, I Lost the Airport: Automatic Federal Budget Cuts Will Wreak Havoc in the Skies," Center for American Progress, Aug. 1, 2012.
Officials at Southern Wisconsin Regional Airport in Janesville [Wisc.] learned Tuesday that the FAA will receive and plans to apply full federal funding to its contract towers program. The program pays for private contractors to operate control towers at some airports, including the airport in Janesville.
—The Janesville Gazette, Feb 29, 2012.
Politicians of all eras and persuasions love the view from 35,000 feet (or, at least from the USS Wisconsin.) The implementing of said view near ground level may provide bipartisan challenge.
Consider getting around Central Daylight Time.
I would suggest AA 3894 Fayetteville to Chicago as one example of a "view" that politicians do not often receive. Business types confront "getting around" every day.
(Exactly what is a sequestered-deprived student supposed to do in Razorback America? Go to the Big City by covered wagon?)
Slapdash budget cuts are dumb. They are nothing but timid politics avoiding big-item pain. Washington will not confront 35,000-feet decisions, so it descends to inefficient blanket tactics.
Read Scott Lilly's outstanding piece on dumber airport policy. Consider the struggle to "keep open" Chairman Ryan's local landing strip.
Nonsensical cuts are not about one vice presidential candidate bombing us back to A Prairie Home Companion.
They are all guilty. Let them fly at 350 feet. Discuss.
Before it's here, it's on the Bloomberg Terminal.
LEARN MORE