business
Klout, Controversial Influence-Quantifier, Revamps Its Scores
By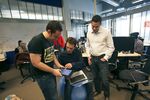 Few Silicon Valley start-ups have provoked such an acrid response as Klout, a Kleiner, Perkins-backed startup that measures people's online influence. Klout mines information about individuals, such as the number of followers and friends they have on Twitter and Facebook, and then sells the resulting scores to customers like airlines and banks. Those companies then offer secret rewards or more responsive customer service to the loudest online voices. If you view this as the onset as a new kind of pernicious bias in our society, you're not alone. According to Klout's Wikipedia page, the service has been called "socially evil," compared with herpes, and castigated for doing a lousy job of "trying to measure this monstrosity called social media."
But Klout isn't slowing down. "Being a lightning rod has become part of our life here," says Joe Fernandez, chief executive of the 70-employee company, which is based in San Francisco. The company has generated more than 100 million Klout scores—you already have one if you have a public Twitter or Facebook account. CRM (customer resource management) companies like Salesforce.com and Radian 6 already ingest this data and add it to their systems, so an airline customer service representative may see your Klout score the next time you call. The perks are even getting more tangible. This spring, for example, Hong Kong-based airline Cathay Pacific (293:HK) began allowing people with Klout scores over 40 access to its first-class airport lounge. "People lose sight of the fact that they are already segmented by every company they do business with," Fernandez says. "In this case, it's not what family you were born into or how much money you have, it's how well you are able to share your thoughts with the rest of the world."
Now Klout is announcing a broad revamping of the method it uses to generate scores, and the new formula seems designed in part to address at least some of the criticism. The company is increasing the numbers of variables in its score, from 100 to 400, in an attempt to calculate a more accurate ranking. As part of that effort, offline stature will now matter more than it used to. Klout will begin examining LinkedIn profiles and lending weight to people's job titles, as well as where they work. It will also give an extra bump to anyone who has a page on Wikipedia.
Klout also says it wants to be more transparent in how it reaches its conclusions. The company has redesigned its website so that anyone who registers can see which postings have had the greatest impact on their ranking. There will also be a tutorial on the website that walks people through all the variables in the Klout formula (though the company will keep secret how it weighs each variable). Fernandez says the changes "are designed to help you feel more recognized than judged."
That may not assuage Klout's critics. The last time Klout tinkered with its algorithm, some social media obsessives saw their scores drop and perhaps paradoxically, took to social networks to bemoan the company's methodology. But at least Klout's new formula appears to have restored some balance to the universe. Fernandez says in the revamping, President Barack Obama's Klout score jumped from 94 to 99, surpassing Justin Bieber, who now falls to 91, from a perfect 100.
That should help the president if he ever needs to slip into a Cathay Pacific lounge.
Before it's here, it's on the Bloomberg Terminal.
LEARN MORE