China's Scary Slowdown May Have Limits
Look for a pickup by yearend
By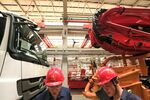 Has China's economy hit bottom? There are plenty of signs that China's economic engine is stalling. Export growth was nearly non-existent in July, increasing just 1 percent over the previous July. Meanwhile, growth in fixed-asset investment was flat, too. Growth in industrial production fell to 9.2 percent, compared to 9.5 percent in June. (The average monthly gain over the last 20 years or so has been more like 13 percent.) "China's July macro data posted across-the-board weakness, with slowing domestic activity and a sharp deceleration in exports," Barclays economists Jian Chang, Yiping Huang, and Steven Lingxiu Yang wrote in a report on Aug. 10.
The main culprit is a major slowdown in demand from Europe, China's largest export market. Exports to the European Union were down 16 percent year-on-year; exports to Italy plunged 36 percent. and exports to France were down 21 percent. Even Chinese exports to Germany, the strongest major economy in the euro zone, dropped 18 percent. China's leaders didn't realize how much the country's factories would suffer from the crisis in the euro zone, according to Bloomberg economist Michael McDonough. "Policy makers may have been caught off-guard by the extent to which the European debt crisis has impacted demand for Chinese exports," he wrote in an Aug. 13 note.
The gloom extends to high-profile merger and acquisition activity. In the first half of the year, China's dealmakers decided to lay low, private-equity experts at PricewaterhouseCoopers told reporters in Hong Kong on Tuesday. The number of M&A deals dropped 33 percent in the first half and the value of deals fell 10 percent. Domestic deals dropped by 25 percent and inbound deals funded by foreign investors plunged 42 percent.
For an industry accustomed to a fast pace of China deals, the first six months of 2012 were the worst since the bleakest days of the global financial crisis. "It's a remarkable downturn," David Brown, PwC's Greater China private-equity group leader, said at a media briefing.
There are some signs that the worst is over, though. In what could be the biggest leveraged buyout in Chinese history, Focus Media, the Shanghai-based display advertising company, is the target of a takeover bid by a group of private-equity investors, including the Carlyle Group. In a statement on Monday, Focus Media announced that Carlyle and the other investors had offered $27 for each of its American depositary shares, 15 percent more than the company's Aug. 10 closing price, in a bid that values Focus Media at $3.5 billion.
PwC's Brown is confident that Focus Media won't be the only big deal in the months ahead. Despite the slow start to 2012, the firm still expects outbound deals from China to hit a record this year and anticipates "a strong recovery" for other China-related M&A. "There's still a strong demand for growth capital" in China, he said. Further driving deal demand: The clock is ticking for some private-equity funds that made investments in China years ago, as the funds' built-in time-expiration date approaches. "There is some pressure in the pipeline to get these exits out the door," he said.
In broader terms, the Chinese economy should start picking up again in the second half, Barclays economists expect, thanks in part to increased investments in infrastructure and manufacturing. The Barclays team sees gross domestic product growth falling to 7.6 percent in the April-to-July quarter, then improving to 7.7 percent in the third quarter and to 8.1 percent in the fourth quarter. So even with the bad patch China is in now, the country would still end the year with GDP growth of 7.9 percent. Not bad for the worst period since Lehman went belly-up.