B-School Twitter Roundup
Alison Damast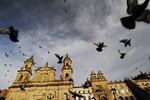 This week's Twitter roundup of happenings in the business school world includes two MBA graduates who created a pop-up store at the 2012 London Olympics, one university that is going green with electric cars on campus, and the start of the busy fall recruiting season for many business schools.
In the last five years, the number of prospective business school students under the age of 30 taking the Graduate Management Admission Test (GMAT)  has jumped 24 percent; in 2011, there were nearly 216,000 GMAT test-takers under that age (@GMACResearchers, 8/13).
All but 5 percent of the 2012 MBA class from Indiana University's Kelley School of Business has secured job offers three months after graduation (@PhillipTPowell, 8/11).
A number of U.S. business schools are ramping up their international recruiting in Latin America this month, including the admissions team at the University of Chicago's Booth School of Business, which will be visiting Bogotá this week and Buenos Aires next week (@Booth_Insider, 8/11).
Two new hybrid-electric cars will be parked and charged at Temple University this year, part of an initiative by the university to reduce energy consumption by 25 percent in the next two years (@foxschool, 8/11).
Rupert Pick and Patrick Hammond, two MBA alums from the University of Cambridge's Judge Business School, created and designed the Magnum London Pop-Up store in the official shopping center of the Olympics; consumers who visit the store, which will be open until Sept. 5, can design their own Magnum ice cream (@CambridgeJBS, 8/10).
John Fernandes, president and chief executive officer of the Association to Advance Collegiate Schools of Business, writes about how business schools can improve their non-tuition revenue stream by exploring more post-graduate, non-degree education opportunities (@AACSB. 8/9).
Jeralyn Westercamp, an undergraduate business student at the University of Iowa's Tippie College of Business, will be named Iowan of the Day on Aug. 10 at this year's Iowa State Fair (@TippieIowa, 8/9).
Eight Harvard Business School MBA alumni are included in the Female Founders Series's List of "41 Female Founders Every Entrepreneur Should Know" (@HBSNews, 8/9).
Michael Laznik, chief financial officer at World Energy Alternatives and a 2004 alum of Brandeis University's International Business School, was named one of six chief financial officers of the year by Boston Business Journal (@BrandeisIBS, 8/8).
Softball player Hillary Bach, an evening MBA student at Arizona State University's Carey School of Business, was named the Pac-12 Woman of the Year; she is currently pitching for the National Pro Fastpitch League's Akron Racers (@WPCareySchool, 8/8).
Join the discussion on the Bloomberg Businessweek Business School Forum, visit us on Facebook, and follow @BWbschools on Twitter.
Before it's here, it's on the Bloomberg Terminal.
LEARN MORE