B-School Photo of the Week: Wharton San Francisco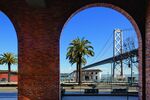 Wharton San Francisco moved to a new home in January, relocating to the historic Hills Brothers Coffee building at the base of the Bay Bridge. The larger space is designed to accommodate planned growth in Wharton's Executive MBA, executive education, and entrepreneurial programs. In the 10 years that Wharton has had a presence in San Francisco, the West Coast campus has awarded more than 700 MBA degrees.
Before it's here, it's on the Bloomberg Terminal.
LEARN MORE