A Green College Ranking Declares a Winner
Francesca Di Meglio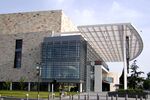 Who's the greenest school of all?  According to a new ranking, it's the University of California, Davis, which jumped from No. 8 to claim the No. 1 spot.
The survey was conducted by the Sierra Club, the Sustainable Endowments Institute, the Association for the Advancement of Sustainability in Higher Education, and Princeton Review, which combined their separate sustainability rankings into one for the first time this year.
"Davis puts a lot of time and money into its sustainability efforts," says Avital Andrews, lifestyle editor of Sierra Magazine, the official publication of the Sierra Club, which will feature the results in its next  issue. "Everything they buy for the campus is vetted for sustainability." The school is known for its trash diversion, an initiative to keep garbage out of landfills by recycling, reusing, or composting it. In the transportation category, Davis has 20,000 bikes on campus in a given day.
Rounding out the top five were the Georgia Institute of Technology, Stanford University, the University of Washington, and the University of Connecticut.
The 96 four-year colleges and universities in the U.S. that took the 2012 survey offered information on a variety of environmentally friendly efforts, including use of sustainable foods, transportation, diversion of trash, and more. The results of the survey were then used to create a numerical rank based on which schools were putting in the most effort and demonstrated a well-rounded approach.
The Sierra Club has been ranking schools on sustainability for six years, and has declared a different winner in each of the last three rankings; University of Washington took the top spot in 2011, Green Mountain College in 2010, and University of Colorado at Boulder in 2009. Although West Coast institutions still dominate these rankings, that's starting to change. As a southern school with a technology focus, No. 2  Georgia Tech isn't the kind of institution that has traditionally fared well in sustainability rankings, says Andrews. In addition to aggressively tackling dining hall waste, the school offers more than 260 courses related to sustainability.
Conducting the survey has given the Sierra Club an insider's look at students' desires to be greener. In the last few years, says Andrews, one trend has been for schools to focus more on their energy use. Students have been speaking out against institutions that rely on coal-fired power plants for energy. Since August 2009, 19 schools have committed to upgrading their power supply, says Andrews.
"College is where many young people develop their habits for life. If they're surrounded by sustainability efforts and are encouraged to do things like recycle, compost, grow their own food, and carry around reusable water bottles, they're more likely to carry that eco-positive lifestyle into adulthood and eventually raise their children with those habits as well," writes Andrews in an e-mail. "Instilling green values in people while they're still collegians eventually spreads those good practices to the larger population."
Join the discussion on the Bloomberg Businessweek Business School Forum, visit us on Facebook, and follow @BWbschools on Twitter.
Before it's here, it's on the Bloomberg Terminal.
LEARN MORE