Why Every Manager Should Watch HBO's 'Hard Knocks'
By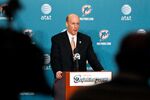 At the beginning of this year's training camp, the Miami Dolphins' tall and angular new head football coach, Joe Philbin—who looks more like a dentist than a tough-talking gridiron guru—reminds one of the team's high-profile acquisitions that he'd be wise to toe the line. The player is the wide-out Chad Johnson, a man known until recently as Chad Ochocinco, who earlier had unleashed some foul language during a press conference.
"If you drop the f-bomb, maybe in the right setting, it has an impact," Philbin coolly tells him in the first episode of HBO's reality series Hard Knocks, which began its seventh season last week. "Do you get what I'm saying?" Philbin's prolonged, gentle scolding, while not exactly the stuff of a Hollywood script, was in many ways dazzling and artful—a clever, subtle, and multilayered expression of criticism, disappointment, and a flash of hopeful encouragement. Johnson tried to counter with a few lighthearted words about Chad-being-Chad, but Philbin cut him off. "I want you to know that if I have something, I'm going to come to you," he says. "You need to be ready to deal with that—and that's just the way it's going to be." (Note: Johnson has since been released by the team after being charged with assaulting his wife.) This wasn't the only moment in the show when Philbin engages in raw and canny rhetorical jujitsu.
Hard Knocks is only nominally about the action on a football field. It's a show about powerful people running a high-speed, lucrative business—and all the hiring, firing, arguing, disciplining, high-fiving, and team-building that comes with the territory. With each passing episode, obligatory sequences of sweat-drenched collisions and slow-mo, spiraling footballs merely serve as interstitials while the front-office deliberations among the coaching staff and management heat up. As a workplace drama, it ranks among the best on television. Expensive presentation equipment and PowerPoint slides and tabletop Cisco conference phones aren't just props—they're characters unto themselves, especially when they begin spouting the voices of players' agents.
The thrust of the narrative is this: Only 53 spots are available on any given roster for an NFL team. Every August, a motley assortment of around 90 players—including veteran journeymen, undrafted free agents, boyish-faced rookies—march to camp in their rubber flip-flops, wearing sea-sail T-shirts and backward caps, and compete for spots on the team. Over the course of the five-episode season, difficult roster decisions are made, personal lives of players are laid bare, and the team is eventually streamlined into its lithe, regular-season form. As the players lose their jobs and get shepherded out the door, their playbooks are reclaimed by team representatives. While this perfunctory chore serves an actual purpose—it's in the interest of protecting intellectual property—the ritual has taken on a level of symbolic and ceremonial, just-voted-off-the-island theatrics.
As is so often the case in business, it's not always fair—it's complicated. Rookie offensive lineman Derek Dennis was let go before a single ball was snapped. He'd participated only in a conditioning test. Without his knowledge, the Dolphins chose to sign a guard with more experience. "I want you to know that you didn't do anything wrong," general manager Jeff Ireland tells Dennis in his office. "We had an opportunity to bring in a veteran at the guard position. That's why it's you [being let go] right now. Unfortunately, it's part of the business." One can't help but wonder if the decision might haunt the Dolphins: After the more experienced player, Eric Steinbach, passes his physical, he's overheard saying, "Now all I need is a cold tub and a cigarette." There was nothing to suggest he was joking.
One scene will have special poignancy for working professionals who've ever been tasked with managing formidable egos. Philbin drops in on his group of battling quarterbacks—whose friendly dynamic masks a quietly rumbling volcano of potential resentment and possible subplots—as they study film with their quarterback coach, Zac Taylor. There's Matt Moore, the Dolphins' shaggy-haired, reigning starter with a sunny disposition; David Garrard, a veteran arm who until this season spent the whole of his career playing for the Jacksonville Jaguars and who is "hungry" for a second chance; and Ryan Tannehill, Miami's most recent first-round draft pick, a cocksure Texan who seemed to walk directly out of a scene from Jerry Maguire, and who is considered by many to be the future of the franchise. Philbin lumbers in bearing news.
"What kind of coffee do you guys got?" he asks awkwardly, but he doesn't wait for an answer. A tense silence descends on the room. Philbin explains that Garrard is currently the starting quarterback on paper. "I want you guys to know that in no way is this competition over," he says. "I hope you know that if you have a problem with that, you should talk to Zac. … Or talk to me about it. We can kick it around and let you know why this is the way we're thinking." It's impossible for the viewer accurately to judge Philbin's decision as right or wrong, because only a smattering of actual on-field plays have been shown. But that's beside the point—this isn't a show about football. It's more about a boss trying to keep his employees upbeat and focused while also fostering a healthy sense of competition. Corporate managers take note.
One of the more compelling characters of Hard Knocks is someone who'll be of particular interest to finance workers. Aspiring tight end Les Brown, 25, hasn't played organized football since high school. He's a former basketball player from Westminster College in Salt Lake City. After graduating, he toiled away on Wall Street for two years as an accountant—a distinction that has apparently earned him the nickname Gekko in Miami—before he impressed scouts at an NFL combine.  "He ran a four-three or a four-four," marvels one lineman to another, referring to Brown's blistering 40-yard dash time. "Oh, man," says the other. "No brainer." Unfortunately, though, Brown's prospects appear dim, as he seems incapable of blocking.
But Brown and the coaches haven't entirely given up hope. "You go out on the street, and to come across an athlete of his caliber, you're not going to find one," says Ireland. And truth be told, Brown does seem to have a certain air about him—the kind of confidence that may have been cultivated by his private schooling and an abbreviated career on Wall Street. Perhaps he's the kind of eager, hard worker for whom fortune and success will inevitably bend his way. There's no doubt he's got the competitive fire of someone who doesn't want to look at another spreadsheet soon.
Or he'll get cut. At which point he'd shake hands with Philbin and surrender his playbook as he's escorted from the facilities. Pro football is business, after all, which gets complicated. Les Brown probably knows a little something about that.