Sales Hits the Big Time at B-Schools
Alison Damast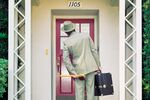 Agustin D'Orazio got his start in sales as a high school student, going door to door to get clients for the auto detailing business he ran out of Jacksonville, Fla. His business was so successful that by the time he entered Florida State University's College of Business in 2009, he knew he wanted to perfect his sales pitch and take it to the next level.
As a professional sales major, he has done just that. He's spent the past three years working with coaches in video sales labs and participating in high-stakes sales simulations, and this fall he'll be one of 10 sales majors competing in the school's first International Collegiate Sales Competition, where he'll get a chance to mingle with about two dozen recruiters who'll evaluate his performance during mock sales calls. Unlike most college students today, he's confident he'll have several job offers by the time he graduates; the school's sales program has a 100 percent placement rate before graduation for sales majors, the school says.
"I have friends who have graduated with good degrees, in finance, and they are moving back in with their parents and scrambling to find a job," says D'Orazio "I don't have to worry about that."
D'Orazio is part of a new wave of college business students who are looking at the sales profession—once relegated to the dusty image of the traveling salesman—as a dynamic and lucrative field to get into in what remains a sluggish job market for recent graduates. Opportunities today for graduates in the sales industry abound, with many recruiters in the past decade stepping up to help sponsor sales programs and competitions at schools and aggressively courting students with majors or concentrations in the subject.
In the past few years the number of sales programs at colleges and universities in the U.S. has exploded, according to the "Sales Education Program Landscape Study" done by the Center for Sales Leadership, run out of DePaul University's College of Commerce. In 2007, courses in sales were offered at 44 U.S. schools, a number that jumped to 101 schools in 2011. Now 32 schools offer a major, minor, or concentration in sales, up from nine just four years ago, the study found. Even MBA programs are starting to get into the game, with 15 now including sales courses as part of their graduate programs in 2011 and six offering an MBA with a sales concentration.
Business schools are starting to invest in new programs in sales as pressure mounts from parents and students to ensure that students get a strong return on investment from college, says Jeanne Frawley, executive director of the Sales Education Foundation, founded in 2007 to help raise awareness about the sales profession and help universities establish sales programs. About 90 percent of sales graduates have secured a job by graduation, according to the 2011 Sales Education Foundation survey.
"When students come out of sales programs, they're not just finding jobs, they're balancing five to seven offers," Frawley says.
With such enviable placement numbers, students are catching on that it is a smart move to include at least some sales coursework in their undergraduate studies, says Pat Pallentino, director of Florida State University's Sales Institute. There are 1,000 students taking sales courses at his school; all 240 seats in the three sections of the school's professional selling class are filled, with a waitlist, while the school's advanced sales techniques class is overbooked. Says Pallentino: "I've been maxing out for the last three years or so."
Recruiters are eager to hire graduates of these programs because of the relatively high turnover rate in the sales industry. Graduates from formal university sales programs tend to ramp up 50 percent faster than their nonsales-educated peers, with 30 percent less turnover, according to a study done by the Sales Education Foundation. As a result, many companies have taken a hands-on approach to how they work with schools, Frawley says.
At DePaul University, 3M Co., the maker of Post-It Notes and Scotch Tape, helped launch the school's undergraduate sales program in 2004. Today the school offers 11 courses in sales and has 200 students graduating each year with a sales concentration. In addition to 3M, the program now has about two dozen corporate sponsors, including Walgreens and PepsiCo, companies that hire students for internships and work with them in the classroom on case studies, says Daniel Strunk, managing director of DePaul''s Center for Sales Leadership. "Our partners are hiring students who have a significant amount of work experience, and the risk associated with hiring the students is nil," he says. "We've created a new recruiting paradigm."
With the success of sales programs at the undergraduate level, more universities are looking to bring sales courses into the MBA curriculum. Ball State University's Miller College of Business, which has a robust undergraduate sales program, introduced a three-course MBA sales concentration last year. About 20 MBA students have signed up so far, says Scott Inks, director of the school's H.H. Gregg Center for Professional Selling.
"Most jobs are going to entail some sort of sales component, whether internal or external, so businesses like the idea of getting an MBA student who can engage and communicate persuasively for them," Inks says. "The students like it because having a background in sales opens up their options."
Before it's here, it's on the Bloomberg Terminal.
LEARN MORE