In Connecticut, Linda McMahon Spends a Fortune on Campaign Ads
By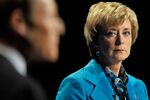 Linda McMahon knows the power of television. Her fortune, after all, is based largely on the broadcasting success of her erstwhile wresting empire, the WWE. In her current run for the U.S. Senate in Connecticut, McMahon is not exactly skimping when it comes to the WrestleMania that constitutes political advertising on TV. Ads featuring the Republican conternder aired on NBC during the Olympics, sandwiched between commercials for such deep-pocketed companies as Visa and Nike.
Tomorrow, voters will go to the polls in the Republican primary for the U.S. Senate seat being vacated by the retirement of Joseph Lieberman, an independent who caucuses with the Democrats. They will vote after having seen quite a bit more on TV recently about McMahon's vision for the future of Connecticut than that of her opponent, Christopher Shays, a former member of the U.S. House of Representatives.
To wit: Data from Campaign Media Analysis Group, which tracks political ad spending, shows that from Jan. 1 to Aug. 6, McMahon's campaign spent $1,496,960 to air some 1,587 TV spots. During the same period, Shays's campaign apparently bought no TV spots, for $0. McMahon is also vastly outspending the Democrats vying for the seat.
Polls suggest that on the eve of the primary, McMahon enjoys a sizable lead over Shays.
Before it's here, it's on the Bloomberg Terminal.
LEARN MORE