Business Lessons From Helen Gurley Brown
by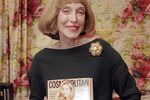 Helen Gurley Brown, longtime editor of Cosmopolitan magazine, defied and then re-defined social conventions about women's sexuality. She ate salad with her fingers because she thought it was sexy, was married for 51 years, and wrote 11 books starting with Sex and the Single Woman, which was published in 1962.  She also created a brand that has lasted for decades in an industry where many don't. The Cosmo cover, equally admired and parodied, boldly featured the word "SEX" packaged in the form of lists, tips, moves, wishes, surveys, and confessions. Brown, who died on August 13 at age 90, was still working, however intermittently, at Cosmopolitan as editor-in-chief of its 64 international editions.
Kate White, the current editor of Cosmo, spoke with me on the phone after news of Brown's death was announced by Hearst, which publishes the magazine.
What did Brown figure out about creating a brand that others in the industry haven't?
She listened to her own voice so completely. She trusted her gut. She saw herself as the reader. She didn't do focus groups, surveys, brand studies. She said, 'I feel this way, these are my needs and desires and I'm betting other women feel this way, too.' She tapped into women's need to be loved, to be successful at home and at work, and to be liberated sexually. She tapped into that need on the deepest level. That's an important lesson for marketers. And then you have to stay true to that and not be lured away. I have her very first cover in my office. She never put on a couple or a model holding a dog. She put on incredibly sexy women. The brand was unambiguous. I never veer from that. I got offered Tom Cruise for the cover and said "no."
How do you maintain that focus?
I tell the editors of the international editions that when my husband taught my kids to play tennis, he taught them to stand on the T on the court. He would say to them, 'Come back to the T.' That's what I tell my editors, too. You've got to come back to the T. Go through your magazine and ask if you've strayed from the T. Be true to the brand identity. It's easy for little things to pull you away.
You've made some changes, though.
I made the humor cheekier because women are more irreverent. I increased coverage of social issues, like date rape and sexually transmitted diseases. Now we assume women are confident in a way women weren't then. But it's still about being candid, authentic, talking to women about how they feel and what their real desires are.
Do you find yourself in situations where you ask: What would Helen do?
I always ask myself: 'Did I go big enough? Is it fun and fearless enough?' We have this story in the October issue about lessons from Kate Middleton. As I was looking at it, I thought this is a little off-brand. Something was bothering me. So I changed the title to "Good Girl Lessons Even Bad Girls Should Steal." And I changed a few of the photos. Now we're using one that shows how Kate handled her dress blowing up around her.
Before it's here, it's on the Bloomberg Terminal.
LEARN MORE