Paul Ryan's Unwitting Ally: Barack Obama
By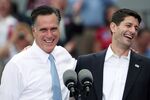 On the surface, the major battle in Washington over the past three years has been between President Obama and his party on one side and, on the other, a disciplined, unified Republican Party that has moved in lockstep to try to thwart his policies. But behind the scenes, another battle has been taking place within the Republican Party: a struggle between establishment Republicans like Mitt Romney and true-believing movement conservatives for whom Romney's running mate, Paul Ryan, is a sainted figure.
For most of Obama's term, the conservative faction has been ascendent, most visibly during the 2010 midterm elections, when Tea Party activists rose up and swept Republicans into power in the House. This grassroots energy, and the large, activist class of freshman House members it produced, effectively gelded John Boehner, the old-guard Republican speaker. Many of the defining fights in Congress during the past two years—over whether to shut down the government, default on the national debt, allow the payroll tax cuts to expire—were forced by this radical element within the Republican Party.
That's caused immense headaches for Obama. The low point of his popularity came last summer after the country narrowly missed defaulting on its debt. But the White House has always believed that this radicalism presented an enormous political opportunity for Democrats—the opportunity being that, left unchecked, these conservatives would overstep and the country would turn against them. Democrats further believe that Paul Ryan provides them the best vehicle for making this case.
From his perch atop the House Budget Committee, Ryan has done more than anyone else to flesh out a detailed vision of how conservatives would redefine the relationship between citizens and the federal government. His mantra is, "If you're going to criticize, then you should propose." In 2004, Ryan and some allies proposed a plan to privatize Social Security, a much weaker version of which was adopted by President Bush and failed badly the next year.
In 2008 he went further and produced a full-fledged budget, "The Roadmap for America's Future." It advocated ending Medicare in favor of direct payments to seniors, block-granting Medicaid money to the states, and once again privatizing Social Security. This direct assault on the welfare state won him plaudits from conservative intellectuals. But establishment Republicans and party leaders deemed the prospect of killing cherished entitlements far too risky to support. His Roadmap attracted just eight co-sponsors.
Ryan was undaunted. Two years later, Republicans had turned decisively against President Obama, the Tea Party had emerged as a serious force, but his own party hadn't put forward a budget, content simply to reap the political benefits of criticizing Obama's. Ignoring the wishes of his party leaders, Ryan stepped forward once again with his Roadmap. Boehner and other Republicans remained cool to the plan, but it excited conservative activists.
Ryan's greatest ally during this period was undoubtedly Obama himself, who recognized the need for a foil and elevated Ryan's stature—and that of the Roadmap—by discussing it in speeches and interviews. Members of his administration attacked it. This forced everyone running for Congress to take a position on Ryan's budget, which quickly became the standard litmus test of conservative bona fides.
After the election Ryan introduced a revised, slightly watered-down version of his budget (it no longer proposed privatizing Social Security) that now included a provision to repeal the dreaded Obamacare. At a speech last April, with Ryan in the audience, Obama ripped the plan to pieces. In his famous characterization, the Ryan budget was "thinly veiled social Darwinism." Two days after Obama's speech, the Ryan budget passed the House 235-193, winning all but four Republican votes.
A month later, in what was widely viewed as a referendum on the Ryan budget, a Democrat won a special election in New York's conservative 26th congressional district after campaigning vigorously against the proposed cuts to Medicare. Afterward, enthusiasm in Congress for Ryan's budget waned and most of its provisions never moved forward. This is the political model that Democrats have sought to pursue ever since, badgering Romney to take a position on Ryan's budget and then, once he did ("it's marvelous"), arguing that Romney's candidacy was a stalking horse for the unpopular plan. The Obama campaign believes that by choosing Ryan as his running mate, Romney is essentially doing their work for them.
Obama could, of course, come to regret elevating Ryan, who is a much more personable and appealing politician than Romney. The election now looks as if it will shape up as a choice between two visions of governing, rather than a simple referendum on Obama's handling of the economy. Most Democrats believe that this is much more congenial territory for Obama to run on. But it's also true that Romney has never offered any clear rationale for why he should be elected president. Now he has one: to institute Ryan's vision of government. Voters could well decide they like it.
Either way, Ryan's status as presumptive vice presidential nominee marks a definitive victory for conservatives over the old Republican establishment. Now the American people will decide how far this conservative revolution will carry.
Before it's here, it's on the Bloomberg Terminal.
LEARN MORE